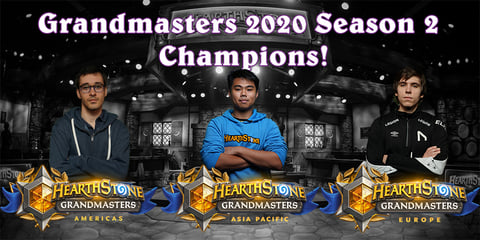 After an intense weekend of big Hearthstone games, three players triumphed in their respective regions, qualifying for the epic 2020 World Championship. Seven out of the eight needed slots are filled, giving us a pretty clear picture of what's to come.
Grandmasters 2020 Season 2 is over, and three excellent card-slingers were crowned champions in their own regions, securing a spot in the upcoming World Championship.
Pramet "Bankyugi" Putchakan swoop the Asia-Pacific after taking on the 2018 World Champion Wei-Lin "Tom60229" Chen in a very close 3-2 match.
Over here in Europe, Jaromir "Jarla" Vyskočil had a dominant run, securing easy victories over Theo "Felkeine" Dumont and beat fan-favorite Thijs "Thijs" Molendijk in the final confrontation.
As far as the Americas are concerned, Jerome "Monsanto" Faucher made the cut all the way till the end, but his path was no walk in the park. David "killinallday" Acosta gave him a run for his money until the epic final against Fei "ETC" Liang, ending up in a tight 3-2.
The World Championship is shaping up to be an interesting one! So far, the list of contenders includes:

Bankyugi
Jarla
Monsanto
Bloodyface
Glory
SilverName
iG.Syf
Now we're looking at China, as it will give us the final participant's name on November 15.
The World Championship is scheduled for December 12-13.
For more Hearthstone news, keep coming back to EarlyGame!