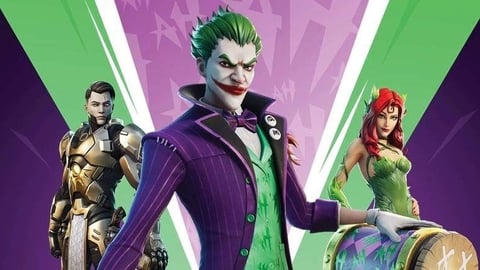 Two of the most notorious villains of the comic industry get their own skin in Fortnite. What's the cost of Joker and Poison Ivy and when will they be released?
Some very special skins have been revealed and they'll be released later this year. These skins join the DC Universe, which has already brought us some great stuff like Batman or Catwoman. Now the super rogue fans have the chance to get Harley Quinn in the shop again.
She's back!!! https://t.co/w7JtfO4BOY

— Donald Mustard (@DonaldMustard) August 15, 2020
The skins that have now been painted are in line with the motto:
"He who laughs last laughs best."
Any ideas?
The Last Laugh Bundle
The last laugh bundle brings us the popular DC super villains Joker and Poison Ivy to Fortnite. But another skin joins them. Below is a list of all the items in the bundle:
1000 V-Bucks
Skins: The Joker, Poison Ivy, Midas Rex
Back Blings: Laugh Riot, Back Bloom, Midas Crest
Pickaxes: Bad Joke, The Joker's Revenge, Ivy Axe, Kingmaker
Contrail: Pick a Card
Sie sagen Lachen sei die beste Medizin, nicht wahr Batman?

Erschafft Chaos, richtet Verwustung an und werdet Verruckt mit den Outfits "Der Joker, Poison Ivy und Midas Rex", welche ab dem 17. November im "Letzter-Lacher-Paket" erhaltlich sein werden.https://t.co/KtGNxQc7gK pic.twitter.com/wfEeOJ8pnL

— Fortnite Deutschland (@FortniteDEU) August 15, 2020
What exactly Midas Rex has to do with Joker and Poison Ivy is questionable. Maybe it's some kind of Two-Face or Ironman reference? Perhaps we'll know more about that once the skins are available. Last we saw Midas, whose doomsday device triggered the event that culminated in Season 3. A huge tidal wave crashed over the map, flooding the entire island. In the trailer for Season 3 you saw Midas desperately swimming away from a shark and now it may be that his story finally continues.
When is the Bundle Coming to the Shop?
Back when Harley Quinn got her own skin to promote Birds of Prey, we expected to see a Joker that would fit her. The thing is the Batman villain never appeared in the movie or in Fortnite. Unfortunately, the wait is not quite over yet. The package is not scheduled for release until November 17.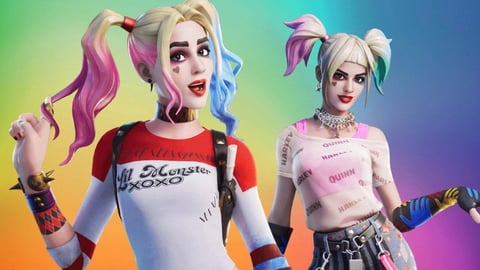 How Much Will the Bundle Cost?
The last laugh bundle will cost €30. This bundle is probably what Fortnite will try to sell as their "retail" Christmas present, which is always difficult with a free game. You will probably be able to buy a physical box, which you can unpack and which will contain a code for the Epic Games Shop. Since the package already contains 1,000 V-Bucks anyway, which is about 10 Euro and a DC-Skin normally costs between 15 and 20 Euro, the package is actually quite cheap. It will be available for PC and all consoles.
Whether the package will also be available for mobile gamers is still up in the stars. It all depends on whether Epic Games will settle its dispute with Apple and Google. More news and information about Fortnite can be found on EarlyGame.