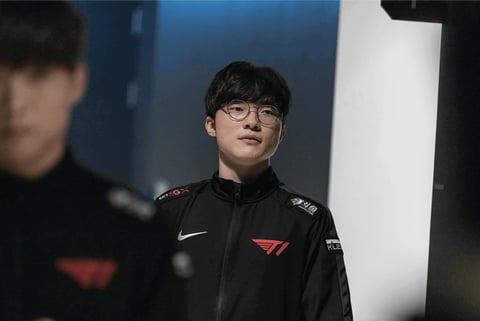 League of Legends superstar Lee "Faker" Sang-hyeok, mid laner for T1, made a huge announcement today. He has re-signed his contract for three years and now adds "part-owner" to his title.
This news comes in a recent Tweet and press announcement made by illustrious sports organization T1 this morning. During the announcement, Faker had much to say about this new endeavor he will be undertaking with this new contract. In a short statement on T1's website, Faker said:
"I am honored to become a part owner of T1 and look forward to working with the leadership team beyond my playing career. I love this team and am proud to help mold the future of this organization." - Lee "Faker" Sang-hyeok
T1 is excited for our future with @Faker.@JoeMar CEOga jeonhaneun T1gwa peikeoyi miraereul gidaehaejuseyo.#T1WIN #T1Fighting pic.twitter.com/e5GjZ6eS1E

— T1 LoL (@T1LoL) February 18, 2020
This comes as no surprise as it was reported that multiple organizations globally had been offering the mid-lane monster a "blank check" to come play or work for them. But Faker's heart lies with T1 only, it seems. As a professional player, Faker is known to the worldwide esports and video gaming audience and this new contract with T1 further establishes just how incredible of a person and a player he is and the impact he has made on the esports scene as a whole.

Who is Faker?
Lee Sang-hyeok, better known as Faker, is a professional League of Legends player currently playing for the team T1. Faker is one of the only two players to have won the League of Legends World Championship series three times – in 2013, 2015 and 2016. Faker is well known in the gaming and esports community for his incredible mechanical prowess, mastering every single champion in the game and playing a wide range of champions within professional esports games.
You can find out more about the future of Faker here.
We can only wish him good luck and success with his new responsibilities. Pro gaming is one thing but owning a team isn't easy, either.