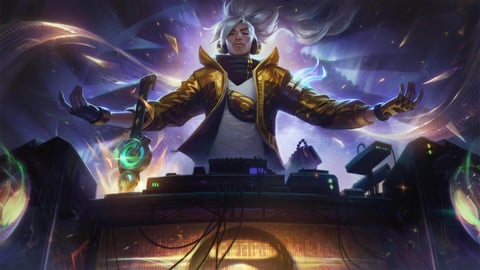 Riot Games continues its successful collaborations with another fashion brand. True Damage Yasuo will get a new golden look. We've got the details on when and how to get this new skin.
Riot Games has once again partnered with a major fashion label to create a unique experience for fans. Together with the Japanese brand AAPE, Yasuo's True Damage skin will get a whole new look, much like his group counterparts Qiyana and Senna got last year with their Louis Vuitton prestige skins.

Presenting AAPE BY *A BATHING APE(r) X LEAGUE OF LEGENDS, a limited apparel collection, and True Damage Yasuo Prestige Edition. Available online and in select retail stores on September 25.

AAPE BY A BATHING APE @AAPE_OFFICIAL #AAPExLoL pic.twitter.com/jZ0BzRmeyt

— League of Legends (@LeagueOfLegends) September 1, 2020
AAPE is the younger and trendier sister brand of A Bathing Ape, specializing in luxury urban clothing, who have also partnered with various brands previously, such as Nintendo and even Disney to create fashion collections.
The release of the Prestige Yasuo skin will also come with exclusive merchandise in the AAPE style, most likely being T-shirts, sweaters and jackets. AAPE will reveal the upcoming collection in the following weeks.
Yasuo's True Damage skin was chosen as the prestige due to its unique look which fits into the style of the brand. Fans can gear up on September 25 by picking up the merch in select stores or ordering their favorite products online on the AAPE webshop. There will also be an exclusive Yasuo Prestige Edition T-shirt will also be available worldwide through the Riot online store as well as through AAPE.
The Prestige skin will also be available for all players on September 25 for the rest of 2020 and will cost 100 Prestige Points.
What are your opinions on the new skin? Are you thinking of going out and getting some of the IRL merch? Discuss it with us on our Twitter and Facebook page!
Want more news on League of Legends? Check out our guide to the new PsyOps Event and read up on Riot's newest Hero Samira. For any and all League of Legends news browse through EarlyGame.