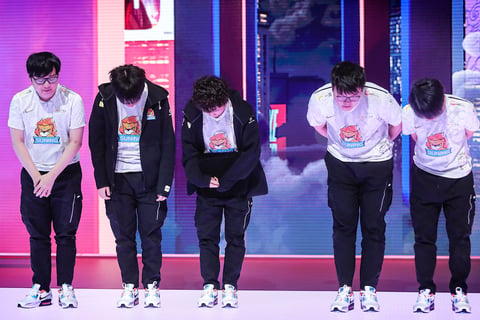 Last weekend, the League of Legends World Championship semifinals took place in Shanghai, China, to decide who would be able to play in the Pudong Football Stadium in front of 6,000 Chinese fans.
The Sunday semifinal was between the two Chinese teams, Suning and Top Esports, with Top Esports being the clear favorites. After having placed second in spring and first in summer the team was set to march onto the finals stage, but a single team stood in their way.
Suning had already bested G2 as well as JDG and with every win, they looked better and better. Fans could watch the literal evolution of a team which had come in 11th place in the Spring, missing the LPL playoffs completely, to a fearsome opponent.
But who sre Suning? What sets this team apart from others that they managed to take down three of the favourites of the 2020 World Championship? We take a closer look at the players and their journeys to this moment.

Suning - Evolving With Every Game
If you want an underdog story then look no further than Suning. The team finished in 11th place in the Spring Split with a 7-9 record. The team seemed to have been average at best and yet they somehow made it to the 2020 World Championship. How did this happen?
The team rallied together and it seemed that with each game they seemed to communicate better and just synergize with one another. Their Summer Split was a huge step forward, placing fourth in the regular season.
Throughout 2020 Suning has shown great resilience and endurance, making it through the difficult times which the team had experienced. Where did this will to not give up come from though?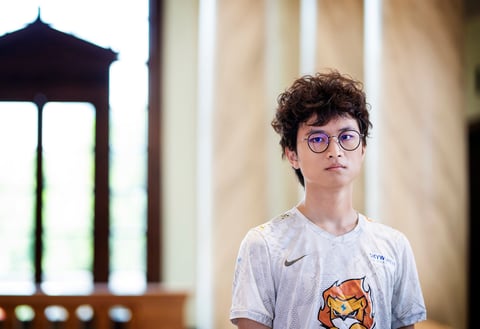 Some of the most heartfelt personal stories seem to come from this team which mirror just how the team managed to get this far, even though nobody had expected them to. They'd been written off as a team which made it to Worlds only because previous World Champions FPX had a bad day.
It's players like Lê "SofM" Quang Duy that have shown their skill on Summoner's Rift which are to be admired. SofM was the first player to make it into the top 10 on the Korean Challengers Server. He was also the first-ever Vietnamese player to make it onto an LPL roster, having joined snake eSports (now LNG) in 2016.
At the 2020 World Championship, he is the only Vietnamese player participating in the tournament since the two teams coming from the VCS couldn't participate due to the pandemic. Not only is he playing for his team, but also as a representative of his country.

For some people, it's just a game.
For others, it's life itself.

At an age far too young, he lived through poverty, abandonment, deceit, everything to reach this point.

This is Tang Huan-Feng's story.https://t.co/d4osoUE9Gp

— Linda Pro League (@iCrystalization) August 18, 2020
Of course when looking at Suning and their roster, another name which sticks out is Hu "SwordArt" Shuo-Chieh, the shot caller and oldest member of the team. He has been part of the League of Legends scene and is most well known for his time in the LMS on Flash Wolves, a team that seemed to dominate domestically, but fail at international events. Him facing off against a longtime friend and old teammate in Hung "Karsa" Hao-Hsuan was one of the most heart-wrenching narratives to come from the tournament.
That isn't the only storyline that seems to make the run of Suning all the more impressive. One of the shining stars to come out of this tournament is Suning's ADC, Tang "huanfeng" Huan-Feng who had been abandoned by his mother when he was only 12 and had to survive on his own. He lived on his own, only aided by friends as well as teachers from school, and even though all odds were against him, he made his dream of playing professional League of Legends a reality and now he will be standing on the biggest stage. The World Championship finals.
The road to the finals wasn't easy. Suning had to beat G2, JDG as well as Top Esports, teams all heavily favoured, but this team seems to fit the role of the underdog. They've shown time and time again that they are a contender and that they can beat just about anyone. Maybe they thrive on the feeling of being the underdog? Only Saturday can tell if they can beat the final boss – Damwon Gaming – to make this Cinderella story come true.

What do you think of Suning and their incredible story? Let us know on Twitter and Facebook. For more League of Legends news as well as updates on the new LoL Patch 10.22 keep reading on EarlyGame.