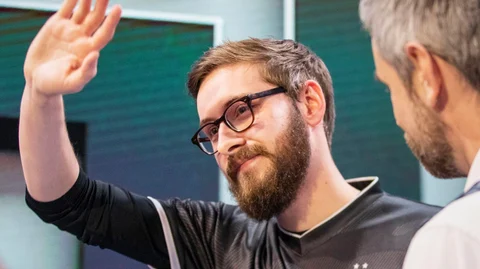 Søren 'Bjergsen' Bjerg could return to professional League of Legends esport in 2022. After his retirement in 2020 the Dane became TSM's head coach. According to 'upcomer' he could enter the active esport-scene again.
He is definitely one of the most iconic League of Legends players the world has seen. And now he could comeback to stage play. The former star mid laner Bjergsen will be playing as a pro again next year.
At the end of 2020 Bjergsen became the head coach of TSM. His current contract however will end on November 16th this year. 'Upcomer' claims that reliable sources told them, that the LoL superstar is set to play again. He could join a starting lineup of an LCS or LEC team for 2022.

Breaking: Soren "Bjergsen" Bjerg is looking to return to pro play in 2022, sources tell @Upcomer. His current contract with TSM ends on November 16thhttps://t.co/hhGo9413wb pic.twitter.com/JRSMpIYGBa

— The Esports Writer (@FionnOnFire) September 12, 2021
Will Bjergsen Play Again For TSM?
After playing for teams like Copenhagen Wolves and Ninjas in Pyjamas he joined TSM already back in 2013. But this won't happen again.
No, returning to TSM as their mid laner just like in the good old times isn't an option. Forget that idea, that chapter is closed for Bjergsen. Instead, he is ready to jump into the pool of free agency players for the first time in his career.
He spent almost seven years in the LCS as one of the absolute top players of the region. Bjergsen dominated and won six regional championships in NA. But TSM could not win one single international tournament. They even failed to get out of the group stage at the Worlds – for four out of five times when he played for TSM.
He is still one of the best players in LoL and his comeback could be awesome. If he decides to become a free agency it will be exciting to speculate, which team he could join.
The guides, the videos, the lore, it's all here! EarlyGame will make you Challenger!