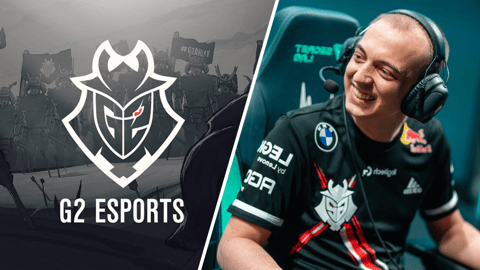 After a disappointing summer split wherein G2 didn't even qualify for the 2021 World Championship, everyone thought G2 would be making some roster changes, but they pulled a UNO reverse card and instead elongated Caps' contract for another year!
Caps is one of the best mid laners that fans have had the joy to watch, and now we know he will be staying in the LEC and with G2 a little longer. According to Riot Games' Global Contract Database, he extended his contract with G2 until the end of the 2023 season. This means his contract will run just as long as Rekkles.

G2 Extends Contract with Caps
His original contract ran until the end of 2022, but now the mid laner will stick with G2 until the end of 2023. Everyone else expected the complete opposite to happen after the disappointing season, but this is what CarlosR ocelote, the CEO of G2, stated on Twitter:
A winner is not a winner because she/he wins. A winner is a winner because he gets fucked, lkearns, adapts and finds a way to win again.
So basically, he wants to keep the best squad together and a single bad split won't make G2 panic and switch things around in desperation.

company email pic.twitter.com/k7en3qAjjz

— CarlosR ocelote (@CarlosR) August 25, 2021
So, Caps and Rekkles have another two years to try and make their dream of a World Championship happen. Any esports fan would be hyped to see it happen.

The Last Chance for the Current G2 Roster
In 6 years, this is the first time that G2 hasn't made it to Worlds. With names like Caps, Rekkles and Jankos, you think of the biggest esports stage in the world and having a World Championship without either of them feels wrong almost. So, let's hope that G2 can get their stuff together, so we can see them again next year in North America!

Check out everything you need to know about the newest mid laner Vex! Maybe we will see Caps play her soon?
This is going to be the last chance for G2. Top Laner Wunder even bragged that he prefers playing World of Warcraft and that League of Legends is just a hobby of his. Well, you saw the result of that in their game against Fnatic when the rookie Adam made him look like some boosted Plat player.
So, something will have to change and if it isn't the roster, then it has to be the mindset for G2.
What do you think about the G2 situation? Let us know on Facebook or Twitter.