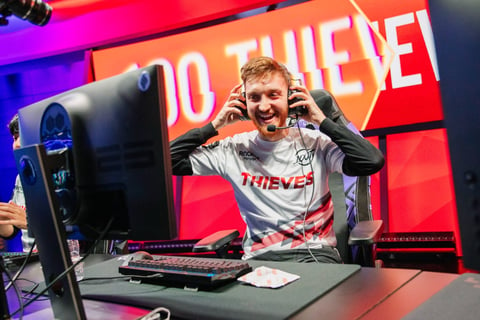 This month's Player of the Month award could have gone to multiple players. There was the insane performance by rookie Adam in the LEC, as well as the miracle run Team WE have put on thanks to their mid laner Shanks. Either of them could have gotten the POTM award for August, but instead, we look west and appreciate the thrills 100 Thieves and their jungler Closer managed to give us.
100 Thieves just won their first LCS championship. After a rough start and some roster shuffling, they managed to find their stride in the summer and Can "Closer" Çelik helped lead their team to victory with his insane jungle pathing and map pressure. So without further ado, here is 100T Closer, your Player of the Month for August.
More Player of the Month Awards:
Who is 100 Thieves Closer?
Closer is a Turkish League of Legends player who began his career in 2017 in Turkey. His first pro team was Royal Bandits, who have since rebranded to Royal Youth. He helped the team make it to the 2019 World Championship, which was held in Europe.
Then, in 2020 he moved to North America, joining the Golden Guardians for the season, and finally for 2021, moving on to 100 Thieves, where he helped the team gain a 2021 berth at the World Championship once more.
Player of the Month Stats:
100 Thieves didn't have the easiest time during the 2021 LCS Championship. They managed to squeeze out a win in their first game against EG, but fell 3 - 2 against Team Liquid and were forced into the lower bracket where they had to face off against Cloud9 to make it to the finals.
Once in the finals, they got revenge on TL with a clean 3 - 0 win. Closer was an integral part of this victory, thanks to his aggressive jungle play on Viego and Lee Sin.
Game Balance: 11W - 6L
Win Rate: 64.7%
KDA: 5.8
CS per Minute: 5.7
Kill Participation: 70.5%
Most Played Champions by 100 Thieves Closer:
Viego (8 Games, 75% Win Rate)
Lee Sin (5 Games, 80% Win Rate)
Diana (1 Game, 100% Win Rate)
This picture sums up @100Thieves accomplishments this year pic.twitter.com/f6b2vrnxGE

— Jack "CouRage" Dunlop (@CouRageJD) August 30, 2021
Why the Player of the Month Award for 100T Closer?
Closer was an integral part of 100 Thieves this summer and his play managed to lead the team to victory. His kill participation speaks for itself with over 70%. It shows that he was a key player in the success of this young team. Thanks to his play, 100 Thieves have made it back to the World Championship – something the team hasn't managed since 2018.
Closer has shown great prowess on playmaking junglers who love to gank, such as Viego, Xin Zhao and Lee Sin. Each of these picks has great pick potential and thanks to his pathing, he was able to influence games in 100 Thieves' favor, making him the most valuable player of the month of August.
The guides, the videos, the lore, it's all here! EarlyGame will help you become Challenger!