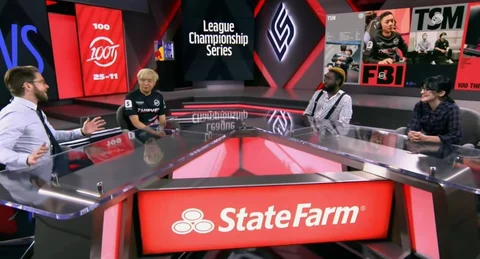 A switch to their Academy roster proved sensationally good for FlyQuest as the team had a 3-0 weekend. Meanwhile, Evil Geniuses continued their winning streak and a victory against TSM ensured that 100 Thieves will remain at the top.

With the LCS playoffs coming ever closer, more and more teams guaranteed their spots. However, jockeying for positions is in full swing - and the matches are as heated as ever.

A Friday of Surprises
Counter-Logic Gaming started the weekend with a bang against old rivals TSM. A pair of mid-game skirmishes gave the underdogs the lead. Despite a TSM ace 28 minutes in, CLG recovered and used a cloud soul and a Baron to secure a much-needed win.

Upsets continued with the clash between FlyQuest and Cloud9. What looked like a sure game for the spring champions after an ace 13 minutes in got very competitive as the game went on. Fudge was a monster on Akali, but it was not enough. 37 minutes in, FQ picked off Zven and - barely - won the teamfight before the C9 Nexus.
he third game of the day featured 100 Thieves against Golden Guardians. The Thieves were put behind early on as they were set behind in both sidelines and in the dragon fight. GG were on fire, getting an early Baron and ocean soul, eventually ending the game after a won fight in the 100T base.
Immortals pressed Evil Geniuses hard in the early game, getting several bloody fights where Xerxe's Viego cleaned up. EG managed to rally, however, and the game was already close 26 minutes in when a great fight for EG saw them get a clean ace and the Baron. It took them some 10 minutes more, but they managed to put Immortals down.

After so many favorites lost their games, Team Liquid was likely a bit anxious going against Dignitas. Yusui's Kassadin was slowly ramping up and after a 1v1 solo kill against Jensen's Leblanc looked poised to take the game. Yet an overextension saw him killed in the nex fight and in the chase, TL got three more kills and the Nexus
TSM Bounce Back on Saturday
Golden Guardians faced off against TSM in the opening game on Saturday. Despite a great early game by Spica on Diana putting his team over 3.5K ahead at 10 minutes, GG fought back hard and made the game appear close until a series of clashes near the Baron 30 minutes in. With this, TSM were fully in control and they did not allow for another embarrassment.

Read more about how you can prowl the jungle in our 11.14 guide!
The second game was Immortals versus Team Liquid. Despite a showy early kill for Insanity in the mid lane, TL eventually established control over the game and got a very quick mountain soul. Even a Baron steal did not help Immortals, who start the week 0-2.

Evil Geniuses had a strong showing against 100 Thieves. While both teams had their moments early, EG came out ahead and racked several kills on Danny's Aphelios. In the mid-game, he took over, monstering through teamfights and leading his team to victory.

Dignitas was on fire at the start of their game against Cloud9, but the spring champions punished several cases of overaggression and eventually surpassed them. Once they got ahead, they left no chance for Dig in teamfights. An ocean soul, a Baron and a big gold lead made for an easy victory.

The last Saturday game featured FlyQuest and Counter Logic Gaming. The early game went firmly to CLG, who played well with pressure and secured a gold and tower lead. However, as the mid-game went on, FlyQuest proved to have the superior teamfighting and outplayed them time and again to get their second win of the week.

FlyQuest Soar Again

Golden Guardians came out ready to rumble against Team Liquid, and rumble they did with several big skirmishes and a lot of map pressure from Ziggs. TL tried to get picks and slow down the game, but the Guardians would always find another play. An early Baron let them open up the TL base and secure a mountain soul, leading to a clean win.
FlyQuest's reign of terror continued against Immortals. The former academy team got two very early kills and took over the map. Immortals got some kills on their AD Carry, but were too far behind in gold. FQ kept accelerating the map with two early Barons and ended it in a very decisive fashion.
You would have thought @RazLCS won the actual #LCS pic.twitter.com/nNcBR15mfo

— LCS (@LCSOfficial) July 11, 2021
Game three was the much-awaited showdown between TSM and 100 Thieves, both at the top of the table. Despite a good start for TSM, the Thieves proved to be the better skirmishers in the mid-game. An early Baron and mountain soul made their advantage too big to overcome. With this clutch victory, 100T stand alone at the top after week 6.

Two early kills by Evil Geniuses against Cloud9 opened the floodgates and soon, EG had a big lead against the champions. C9 tried to hit back in the mid-game, but a quick Baron secure by EG let them accelerate the game. Soon, they were in the enemy base with a nearly 10K gold lead and it was GG.

If you want to know how to really unlock your Ezreal, check this guide!
Counter Logic Gaming started off the wrong foot against Dignitas by giving them a very unnecessary kill early on and oh boy did Dig make good use of it. The team took over hte map and slowly strangled CLG, taking dragons and Barons galore. It was a slow, patient game - and one that Dignitas deservedly won.
Congratulations to @Licorice on winning the @MastercardNexus Player of the Week for week 6 of the 2021 #LCS Summer Split! pic.twitter.com/cHr1vBazxQ

— LCS (@LCSOfficial) July 12, 2021
Read More:

Follow our coverage for more LoL news and analysis!