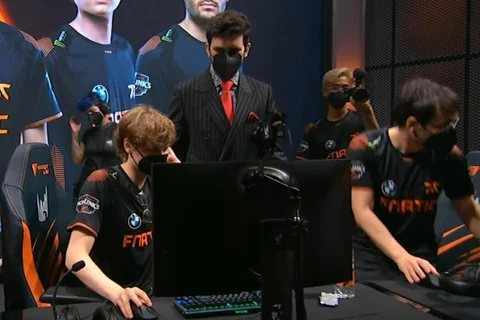 Rogue and Fnatic remain neck and neck at the top of the LEC table - and with two weeks to go, they have guaranteed their playoff spots. Lower in the standings, meanwhile, there's a big fight brewing for the sixth place.

After Fnatic and Rogue were left tied for first place in week 5, the stakes in the League of Legends European Championship can hardly be higher. With playoffs fast approaching, every win counts - and everyone can still make it to the top 6.

Read More:
SK Gaming Trip up MAD

Misfits Gaming and Excel Esports had a very tense game to start the weekend, with neither team able to get a decisive lead until almost the end. Still, Misfits' good mid-game vision kept their poke comp one step ahead. Excel had to roll the dice near the Baron and try to engage, but they were split up and picked off.

Rogue, meanwhile, was on fire in their game against FC Schalke 04 Esports. Several early skirmishes made it clear who the better team on the day was. It took just over 23 minutes for the spring finalists to end the game and maintain their first place.

In game three, SK Gaming were not intimidated by the MAD Lions and had an aggressive start that put them at a lead. The Lions held on for a while, but a series of mistakes in the mid-game resulted in SK getting two barons. The second was the straw that broke the lion's back and SK routed MAD and secured a much-needed upset.
Blue Jezu
We're LIVE in the #LEC!#SKWIN #RUNSKG pic.twitter.com/DHGeHpoD64

— SK Gaming (@SKGaming) July 16, 2021
Fnatic matched Rogue's win earlier that day with an absolute dismantling of Astralis. The kills started early and kept going. Eventually, the favorites were so ahead they just bruteforced their way through fights. Elias "Upset" Lipp was a beast on Kai'Sa and with him, Fnatic were unstoppable.

Team Vitality took the stage against G2 Esports in the last Friday game. In a very scrappy early fight, the two teams stayed close for much of the game. However, G2 won several skirmishes that supercharged their carries. Vitality made them work for it, but the 2020 champions executed better and deservedly won.

Fnatic Win El Clásico
Remember when we were hyped for Excel's new team? They've been on a losing streak and it just got a bit longer with a loss to SK Gaming. The German team had the better start and kept being more proactive. XL tried to find picks, but always came a bit short - and a 4-0 fight near the dragon pit gave SK the infernal soul, the Baron and soon, the game.
Misfits Gaming faced off against FC Schalke 04 Esports in the second game. Schalke kept the game close for the first 12-13 minutes but faltered later. What looked like a sure dragon for S04 21 minutes in turned into a disaster when Kasper "Kobbe" Kobberup's Tristana and Iván "Razork" Martín Díaz's Volibear were unleashed. Misfits got a Baron after that, took all three inhibitors and ended soon afterwards.

Read More:
Team Vitality took it to MAD Lions in the next match. After a somewhat even early game, Vitality won a series of teamfights with where their team composition shined and even got an early Baron. MAD looked on the ropes when they got a big teamfight 26 minutes in to take a Baron of their own equalize the game. In the end, a masterful Orianna ult devastated Vitality's defense and secured the win for MAD.
Rogue's inspired early game was on display once more in the next game against Astralis. Initially behind in kills, Rogue overtook their opponents and dominated the map. 24 minutes in, they foiled an attempted flank to get a clean ace and ocean soul. The baron was soon to follow and with it, they easily ended the game,
It was time for the main event of the week, G2 Esports vs Fnatic. Despite giving a wholly unnecessary kill to Upset right at the start of the game, G2 recovered and were stronger in two lanes. This changed 23 minutes in, where what looked like a collapse on Fnatic ended in them securing several kills and the Baron. The game remained close until in the decisive fight Fnatic killed Martin "Rekkles" Larsson's Vayne and with three players to one ran for the Nexus.

Read More:

The #LEC Summer Season standings after Week 6!

1) #FNCWIN (10-3)
-) #RGEWIN (10-3)
3) #MSFWIN (9-4)
4) #MADWIN (8-5)
5) #G2WIN (7-6)
6) #ASTWIN (5-8)
-) #VITWIN (5-8)
8) #SKWIN (4-9)
-) #XLWIN (4-9)
10) #S04WIN (3-10)

= locked for playoffs

— LEC (@LEC) July 17, 2021
The LEC continues next week with a clash between Schalke and Excel, two teams eager for wins in the playoff chase. Meanwhile, you can find more League news and analysis here, follow us on Facebook and Twitter!