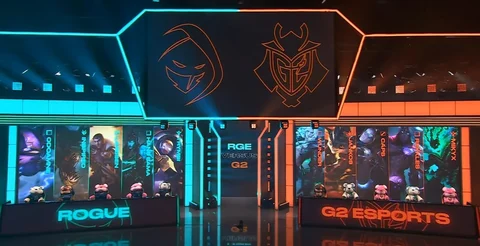 The second week of the LEC Summer Split has seen the old guard teams - G2 Esports and Fnatic - rise with two more wins each. Misfits Gaming's perfect record has been broken, but they remain near the top. Meanwhile, SK Gaming's troubles' continue - can the venerable organization recover?
After an eventful first week that saw many upsets, this weekend brought the elite of European League of Legends together again. The ten games would answer many questions: could Misfits retain their top form? How strong would the top teams of spring actually be? We were about to find out.

Read More:
Misfits Suffer First Loss against Rogue

The weekend started with a clash between the two German teams in the LEC, SK Gaming and FC Schalke 04 Esports. SK had a good start to the game with a strong objective control, but a big fight for Schalke 24 minutes in gave them the Baron. SK fought back and it looked close - until the Royal blues routed them in their own jungle to secure the win. The day continued with a much-awaited showdown between spring finalists Rogue and the red-hot Misfits Gaming. Rogue's early pressure fell to Misfits' great teamfighting and 35 minutes in, the spring finalists faced a Baron and infernal soul on the enemy team. However a clutch teamfight saw Rogue steal the victory.

What followed was a very contested game between Excel Esports and spring champions MAD Lions. The two squads traded back and forth, but as the game went on Excel's scaling and eventual ocean soul proved too much for the Lions, giving the UK team its second victory.
.@EXCEL take down the reigning champions @MADLions_EN! #LEC pic.twitter.com/4CnYOSjKOJ

— LEC (@LEC) June 18, 2021
After finally getting on the board last Sunday, this time Fnatic was on fire against Team Vitality. An early skirmish in the bot lane let Elias "Upset" Lipp and Zdravets "Hylissang" Galabov run away with the game. Vitality's attempts to engage kept backfiring and 26 minutes in, a 3-1 was enough for Fnatic to push forward and end the game.
The last game of the day pitted G2 Esports against Astralis. Despite a somewhat even start where the underdogs even had a temporary lead, G2 showed their mettle in the mid-game teamfights, winning fight after fight. Astralis tried to force an engage 31 minutes in only to get aced and G2 ended the game.
Read More:
G2 Esports Rise to the Top
After losing their game against Fnatic, Team Vitality delivered one of the most one-sided games of the split against SK Gaming. The French squad came out strong from the opening minutes and steadily upped the tempo. Boasting a massive gold lead - 13K before the 20th minute - they denied any comeback and ended the game quickly. The next game between Misfits Gaming and Astralis was nearly as one-sided, with Astralis holding on early but then quickly collapsing. A Baron steal only delayed the inevitable and Misfits eventually secured their fourth win.
tax collected pic.twitter.com/2uDs3ImzH0

— LEC (@LEC) June 19, 2021
FC Schalke 04 Esports and MAD Lions had a very contested early game, but the spring champions came into their own in the mid-game. They played a poke composition and danced around Schalke's limited engage, whittling them down before teamfights to secure the clutch win.

With both teams at 2:2 and on an upward trajectory, the clash between Excel Esports and Fnatic was bound to be exciting. The teams traded blows early, but a series of events past the 10-minute mark saw Fnatic come out ahead in all lanes. The veteran team eventually secured an ocean soul and while Excel tried to fight back, it was not enough. A last-ditch attempt to win near the elder failed and Fnatic ended the game.
2-0 week for @FNATIC! #LEC pic.twitter.com/pb1WAt7HAb

— LEC (@LEC) June 19, 2021
The match of the week pitted Rogue against G2 Esports and the two teams delivered a very hard-fought game. What looked like a great start for Rogue nearly fell apart when a big teamfight gave Martin "Rekkles" Larsson several early kills. While both teams' AD carries were fed and they traded blows, in several clutch fights G2 executed just slightly better and they secured a key win.
Read More:
The LEC continues next week, starting with a game between Misfits Gaming and Excel Esports - two teams that showed they can surprise us this split. For more LoL news and analysis, follow us on earlygame.com.