After two hard-fought victories, MAD Lions earned their spot in the winter finals. There, G2 Esports were ready - and after routing the Lions in a 3-0 sweep, secured the LEC 2023 Winter Split title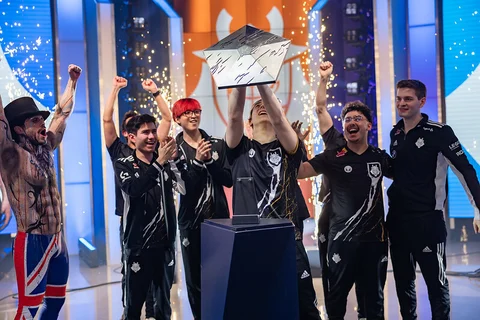 The LEC 2023 Winter Split culminated in a weekend of playoffs. The group stage saw KOI, G2 Esports, MAD Lions and SK Gaming make it out, and G2 defeat KOI in the upper bracket semifinal to lock in a spot in the finals. With this, SK Gaming and MAD would meet in the lower bracket, with the winner taking on KOI for the other finals seed.
Day 1: MAD Win Five-Game Slugfest
MAD Lions 3:2 SK Gaming

The bout between MAD Lions and SK Gaming proved to be long and bloody. The Lions took first game in the series with strong objective control that put SK's early game composition on the back foot, eventually securing the mountain soul and a Baron before ending the game . SK had their revenge in next round, however, getting what at first looked like a small lead but translated into a series of skirmishes won by Daniel "Sertuss" Gamani's Akali, who took over the game. The German team had a good start to the third game as well, but MAD's teamfighting proved to be their ace in the hole. The team had their first ace 17 minutes in, followed by another and the Baron a few minute later in what became an utter rout.
The German organization was not done, however. In the next game, they drafted a scaling composition and were rewarded for it as Thomas "Exakick" Foucou's Aphelios became a monster in teamfights and carried his team to a game five. It was a performance reminiscent to that of his top-tier games in the regular split. This is as far as their strength went, however - in the decisive bout, the Lions had a stellar early game and remained in control, using their Baron to take the game and win their first Bo5 series since 2021.
Day 2: KOI Take First Blood, but It's Not Enough
MAD Lions 3:1 KOI
The former Rogue started the series well, getting a big lead from a fight near the herald and snowballing their advantage despite MAD's efforts. MAD had a better start to game two , getting two early kills. KOI struck back and actually managed to get a lead, but the Lions found their stride in the mid-game, singing out Markos "Comp" Stamkopoulos's Varus in multiple times and outplaying in the teamfights, often off of great plays by mid laner Yasin "Nisqy" Dinçer.
Game 3 gave us several early brawls, but KOI came out ahead and even got the first three towers to store up a gold lead. MAD's moment came 25 minutes in with a big teamfight where they got the third drake with a 4-1 fight, and five minutes later yet another big fight saw them get the ace and the game.When the teams returned to the rift, however, MAD Lions mauled their opponents early with Kim "Chasy" Dong-hyeon's Irelia leading the way, getting five kills in the top lane just for the first 9 minutes. KOI fought back, but despite Emil "Larssen" Larsson's efforts the game soon spun out of control. With two Barons by the 28th minute MAD controlled the map and finished the series with little trouble.
Day 3: Clean Sweep for G2
MAD Lions 0:3 G2 Esports

G2 had been waiting for MAD all week, and they showed they were ready from the start. While the early game stayed close, G2 were more coordinated in their roams and controlled the objectives, leading up to a swift victory. Things went even worse for the Lions in game 2, where an early overreach by their bot lane up a series of collapses by G2 as they demolished MAD in the early game. Rasmus "Caps" Borregaard Winther on Kled and Steven "Hans Sama" Liv on Samira were both super fed, and they snowballed the game to a match point.

In the third game it finally seemed like MAD found their stride, getting several early kills and a lead despite having their bot lane shut down. After an early Baron, MAD seemed to be in control, but a series of aggressive plays allowed G2 a way back - and slowly but surely, they took over the game to complete the sweep and get their tenth LEC title and a guaranteed place at MSI. It was not the final nor the champion we expected way back before the season started - but it is a well-deserved title for Europe's most successful LoL Team.
Read More:
The LEC will take a one-week hiatus and return on March 11th. Will G2 be able to defend its winter title in the spring? Follow us to find out!