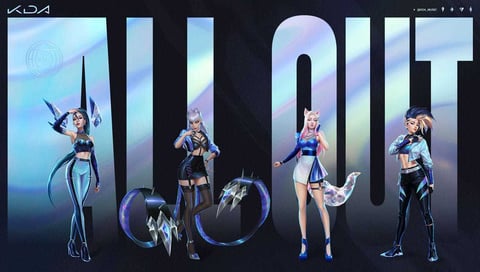 K/DA fans were in for a treat last week, when their album "All Out" was finally released on November 6, featuring a total of five tracks with a variety of new artists, as well as those we were already familiar with.
Chances are that you've already heard at least two songs of All Out, being The Baddest, the first song of the album released two months ago already, and More, the music video that properly introduced Seraphine to us all.
But what about the other three tracks on the album?
Let's take a look!
We've been with THE BADDEST, you got a whole lot MORE, but now it's time to go #ALLOUT.

Available NOW:

YouTube: https://t.co/jSLQ2gl6ON
Spotify: https://t.co/7M60wuTXfp
Apple Music: https://t.co/mvp0TkVWLp#KDA #ALLOUT #VILLAIN #DRUMGODUM #ILLSHOWYOU pic.twitter.com/zXe5sgDnA8

— K/DA (@KDA_MUSIC) November 6, 2020
Villain
Villain adds to the badassery of More and The Baddest with the beloved Evelynn, aka Maddison Beer and Kim Petras.
The song has a darker touch to it than More and The Baddest do, but that most certainly fits Evelynn and the sultry voice of Maddison Beer perfectly.
It was as if the song was written purely for Agony's Embrace.
Drum Go Dum
Drum go Dum is the only song on the album that doesn't feature at least one of the original K/DA girls, but that doesn't mean it's any less cool.
Sung by Bekah Boom, Wolftyla, and Aluna, three incredible singers that you might not be familiar with yet, but after this bomb song, have the urge to look more into them - which is a good idea. The three of them have amazing songs, seriously.
Drum go Dum is the kind of song you listen to when you walk down a street and need to feel like the ruler of the world. So, if you have one of those days, put in your headphones and pretend like you're above everyone else!
I'll Show You
KPOP fans, this one is for you.
I'll Show You is probably the most cheerful out of all the songs, the change that you might have been wanting from this album. It just fills your heart with joy when listening to the beautiful vocals of all the talented artists on this, most notably, four members of the famous KPOP group Twice, being Sana, Nayeon, Jihyo, and Chaeyoung. But let's not forget about Bekuh Boom, who we already know from Drum go Dum and Annika Wells, whose upbeat vocals fit the song perfectly.

You can listen to the full album on YouTube, Spotify or Apple Music. Let us know what your favorite track of the album is, we'd love to hear from you through Twitter or Facebook! And in case you haven't gotten enough LoL news yet, stick around on EarlyGame, we'll make sure to update you about everything.