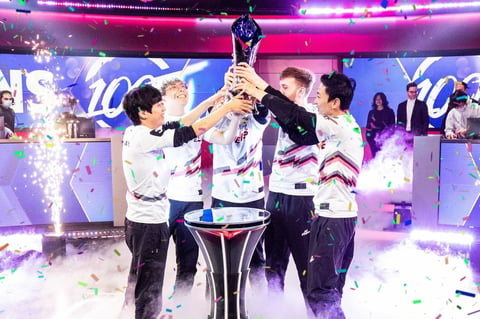 It was the final LCS weekend of the year. The three representatives for the region at this year's 2021 World Championship have also already been decided, the only thing we still had to find out was whether it would be C9, TL or 100T who would lift the LCS trophy.
The final Bo5s were held this weekend for the LCS. Saturday, C9 took on 100 Thieves to see who would play in the finals against Team Liquid for a chance to take home the LCS trophy.
More LoLesports news:
100 Thieves Advance to the Finals
100 Thieves managed a 3 - 1 win over Cloud9 on Saturday. The most impressive game was the second match, in which Cloud9 managed to come out on top of any trades, and yet 100 Thieves held on by the skin of their teeth, getting a win in almost 50 minutes of gameplay and swinging the momentum in their favor.
After the long second match of the night, C9 managed to rake in a single victory, but 100 Thieves was too resilient, not letting a single loss shake them in their drive to the finals against Team Liquid.
Lift it high boys, you earned it. #100T #LCS pic.twitter.com/dhbWu0FiiV

— 100 Thieves (@100Thieves) August 29, 2021
100 Thieves Win LCS Title
The LCS finals took place yesterday between 100 Thieves, who managed a win over Cloud9 the day before, and Team Liquid.
Game 1 was a slaughter of TL, with Closer taking the wheel and decimating any hope TL had of winning that first match. His Viego was immaculate going 3/0/8 to show off his dominance in the jungle, impacting all lanes.
100 Thieves did not stop there though, taking charge of the next two games as well. No matter what Team Liquid tried, 100 Thieves had the answer and managed to shut out TL 3 - 0.
Closer played incredibly and led his team to their first LCS title and a berth in the 2021 World Championship group stage.
Interested in more League of Legends content? Check out our Champion Guides or just read up on some lore from your favorite champions!