Whatever LCS you support, there are a handful of players that have earned the respect of competitors and fans alike. One of these players is Mid Laner Bjergsen, who has just announced his retirement on Twitter.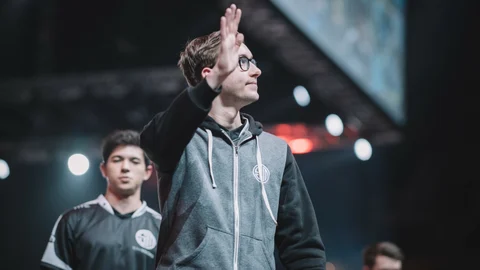 Whatever sport you might follow, there is usually a team or a player that makes you fall in love with the game. It is fair to say that Søren" Bjergsen" Bjerg is one of those players. He came to North America as a 17-year-old boy from Denmark to join a team called TSM – the rest is history.
On April 7, 2023, one of the most successful and highly-regarded players in League of Legends esport announced his retirement on Twitter. For most of us it came pretty out of the blue, but Bjergsen said he made this decision after thinking about it for a long time.
"Big Thank You" - Bjergsen To Step Away From Esports
Bjergsen has been part of the LCS for most of its existence, already a seasoned veteran when it was still called the "NA LCS". He has won six LCS splits, two MVP titles and countless All-Pro accolades during his almost eleven years of professional League of Legends.
Now he has released a video on Twitter titled "My farewell". You can watch it here, but be warned: Have some tissues ready!
My farewell pic.twitter.com/xCM3NRrHu0

— Bjergsen (@Bjergsen) April 7, 2023
One thing is for certain: I'm going to cry all over my TSM Bjergsen hoodie tonight. Of course there is a lot more to say about Bjergsen and his career that can be put in a short video like this, let alone a short news article. Still, the legend himself gave us a personal insight into his beginnings, his career and what is to come for him in the future.
"Didn't See Much Reason For Living" - Bjergsen Calls His Career And League of Legends A Life-Saver
One thing that stood out the most during Bjergsen's farewell video was his gratitude for everything and everyone that helped him over the course of his life and his career. He said that he was "very suicidal" during his school years and League of Legends as well as his career in esports were the main reasons he was able to escape this "dark place".
It's probably fair to say that there are countless people all around the world that are as thankful for Bjergsen bringing joy, excitement, and inspiration to them over the course of his career.
What lies ahead for the Danish esports legend? Well, Bjergsen himself doesn't have immediate plans for the future. He will step away from esports and take some time to focus on himself. Bjerg, whatever lies beyond Summoner's Rift for you – we wish you all the best. Farewell, Legend!