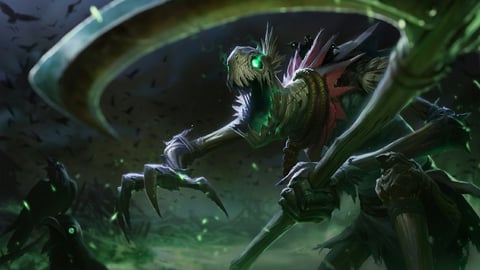 At the moment, Riot Games is busy continuously expanding the League of Legends universe. After Wild Rift, A Ruined King, and others, we can soon expect an MMO in the game universe of the cult MOBA hit.
Since 2009, the MOBA hit League of Legends has become an indispensable part of the world of multiplayer games. The developer Riot Games already discovered the potential of the universe a while ago: With TFT, there's a strategy spin-off, Wild Rift moves the gameplay to mobile devices, and with A Ruined King, a single-player RPG will follow next year. Soon there will be a League of Legends MMO as well.
League of Legends MMO Confirmed
In the future, Riot Games wants to take on the big names in the MMO role-playing genre and launch a true competitor to World of Warcraft, which just added new content with the Shadowlands expansion.

As Greg Street, vice president of Riot Games, confirmed on Twitter, the developers are currently working on an MMORPG in the LoL universe. At first, Street only hinted that the team is currently working on a huge game that many LoL fans have been waiting for - and is also still looking for people for the development.
I have news!

My recent job at Riot has been to help develop the League universe, which we're going to need!

Because it is time. My new job is to kick off a big (some might say massive) game that many of you, and many Rioters, have been asking us to create.

PS We're hiring

— Greg Street (@Ghostcrawler) December 18, 2020
When asked by a fan, the VP of Riot Games confirmed that it is the League of Legends MMO, which has been the subject of many rumors for quite some time.
It is an MMO

— Greg Street (@Ghostcrawler) December 18, 2020
LoL MMORPG Spin-Off Still a Long Way Off
However, the fact that Riot is still actively looking for developers indicates that the work on the League of Legends MMO is still in the early stages. A release within the next two years seems rather unlikely.
But who knows: Maybe the LoL MMO will see the light of day as early as 2022 to rival the new Lord of the Rings MMO that is currently being developed at Amazon Games.
Fans of online role-playing games, at any rate, are looking to a rosy future for their genre, and let's face it: we'll take more content from the League of Legends universe any day, won't we?
How do you envision the League of Legends MMO? Which heroes would you like to see? Let us know on Facebook and Twitter. Read more about gaming and esports on EarlyGame.
Original article by EarlyGame's Philipp Briel.