First, "forbidden", now "warning"? What is Riot trying to keep us away from in LoL?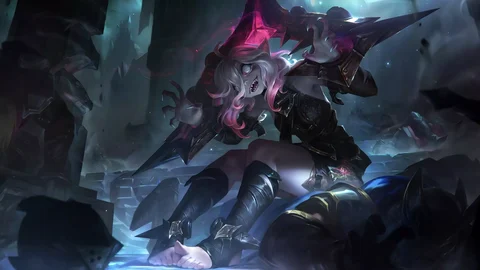 Things are getting scarier and scarier in League of Legends, first Riot adds a "forbidden" tab to their client on August 27, 2023, and now they've changed it to – "warning"? This doesn't look good, guys.
Don't worry, people, I was brave enough for all of us and checked out what the "warning" actually is. Spoiler, it looks like the next part of the new champ Briar's teasers.

LoL: What Riot Is "Warning" Us About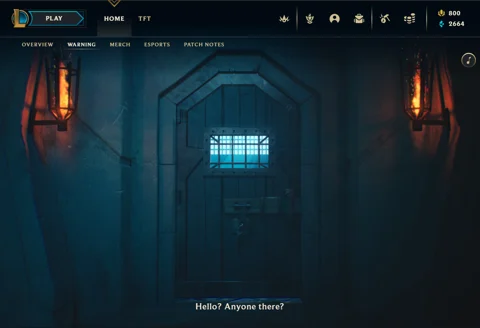 After we saw that the first part of Briar's teaser was hiding behind the "forbidden" tab, we kind of guessed that the second part of the next champs teasers would be found behind the "warning" tab on LoL's home page.
Yes, you heard right, there are already two parts of Briar's teaser out, and from what we've seen, it seems as though we can expect two more parts to come out, according to leaks from SkinSpotlights.
Unlike the "forbidden" teaser, "warning" gives us a bit more interactivity.
At first glance, it looks like we've gone down the hall, all the way to the door we could click on before. We can still hear the rattling, but it seems the whistling has stopped.
Instead, if we click on the door, whoever is behind it starts talking to you and will sometimes even run from one side of the room to the other.
LoL: First Look At Briar's "Hunger"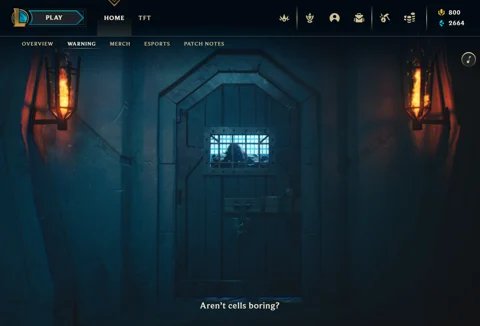 So far, we know that part of Briar's powers will be her "hunger", which will supposedly be completely different to the normal Briar we can play. But we haven't seen anything about her "hunger" so far.
That is, until now. Who- or whatever is running around behind that cell door does not look like the splash art that we have seen of Briar so far. My guess is that this is our first look at what "hunger" will be like in LoL.

It seems Briar has been stuck here for quite some time already, since we can hear "[mopey sounds of boredom]" quite often. Or maybe those sounds are coming from hunger?

I like to think that the whistling from the first teaser is Briar and ever since she's noticed someone is there, "hunger" has come out to play, and want's us and our blood, since she is a vampire. Maybe Briar and "hunger" will be a kind of Dr. Jekyll and Mr. Hyde situation?

After all, if you click on the door a few times, Briar or "hunger" will talk to you directly, saying things like "Hiiii!" or "Hey, is anyone there?". But after a while you'll also get "[hunger moaning]", which to me makes it seem like we've been talking to "hunger" this entire time.

Maybe that's who Riot is warning us about?
If the teaser releases go on like this, we can expect to see the other two parts of Briar's teaser later today and tomorrow, so August 29 and August 30, 2023. Perhaps Riot will release Briar into LoL soon after the teaser is fully out?

I can't wait to see the rest of Briar's teasers and hope Riot keeps these voice lines for Briar ingame as well.
Stay tuned for more information on Briar in the next couple of days!

Speaking of cool new LoL champions, it seems we'll be getting a unique mid-lane champion in the near future:
This article contains affiliate links which are marked with [shopping symbol]. These links can provide a small commission for us under certain conditions. This never affects the products price for you.