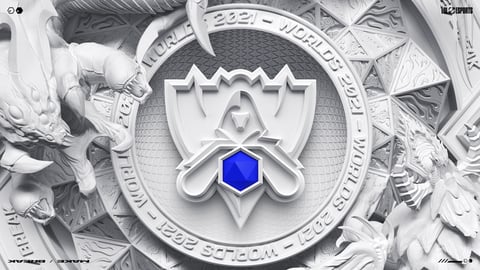 The 2021 World Championship is starting soon, but a few things still need to be figured out. One is the Worlds 2021 song – something which is asked for each year before a World Championship and what the Group of Death will be.
We answer your questions of where and when to watch the 2021 Worlds Draw, so you know where to tune in and what groups to root for!
More LoL Esports Content:
When is the 2021 LoL Worlds Group Draw?
The LoL Worlds Group Draw is going to take place on September 22. This means you will find out which group might be the group of death of the 2021 World Championship today! Of course, TSM isn't part of the action, so they won't be in one of the death groups.
The Group Draw will take place at 14:00 CEST and 8 AM EST.
Where to Watch the 2021 LoL Worlds Draw?
You'll be able to watch the LoL Worlds Draw on the official Riot Games YouTube and Twitch channels, which we have linked below. These are also the official channels on which you'll be able to watch the LoL Worlds 2021 action once it starts on October 5.
If you want, you can also watch the action through the official loelsports website. During the World Championship, you'll probably be able to link your Riot account to gain a few in-game rewards as well.

Links for the Worlds 2021 Group Draw:
group a but it's just @G2Jankos' reactions pic.twitter.com/3BqfN1gDUn

— LoL Esports (@lolesports) September 22, 2021
What Are the 2021 World Championship Groups?
The Worlds 2021 Groups are set after the Worlds Draw today! Here is everything you need to know about the groups competing at this year's World Championship in Iceland.
For more information on the Worlds 2021 Format, make sure to keep reading on EarlyGame.
The Worlds 2021 Play-In Groups:
During the play-in phase, 10 teams are sorted into two groups, A and B, who will compete for the final 4 spots in the Worlds 2021 Group Phase.
Group A:
LCK - Hanwha Life Esports
LPL - LNG Esports
LLA - Infinity
LCO - PEACE
CBLoL - RED Canids
Group B:
PCS - Beyond Gaming
LCS - Cloud9
LCL - Unicorns of Love
TCL - Galatasaray Esports
LJL - DetonatioN FocusMe
Chovy meets Tarzan in Group A as the two will fight to see who automatically makes it to the Group Stage. While Group B looks promising for NA fans, the wildcard teams could surprise some.
The Worlds 2021 Groups:
The Group Phase of the 2021 World Championship encompasses 16 teams in total, 12 of which have automatically qualified already. Three teams of each of the four groups are already set.
Group A:
LCK - DAMWON KIA
LPL - FunPlus Phoenix
LEC - Rogue
TBD
Group B:
EDward Gaming
100 Thieves
T1
TBD
Group C:
PSG Talon
Fnatic
Royal Never Give Up
TBD
Group D:
MAD Lions
Gen.G
Team Liquid
TBD
Group A is definitely the 'group of death' with both DAMWON and FPX. Nuguri will meet with his old team. Who do you think will come out on top?
Group B will also have a storied rivalry, with T1 and EDG facing off. Who will come out on top this time? Last time these teams met, T1 got the better end of the stick.
Group C looks promising for Fnatic, though RNG was the MSI champion and PSG had the best splits in the history of the PCS. It'll be hard to determine who is going to make it out of this group.
In Group D, MAD Lions will have to face off against Gen.G and Team Liquid, so we're confident that the LEC first seed is going to be able to impress and make it out of groups.
You want to get better at League of Legends, so you can hit Gold before the end of Season 11? Then check out our Item and Champion Guides! If you're more casual, you can also learn more about Runeterra through our champion lore articles!