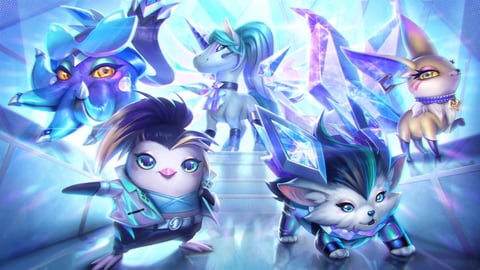 K/DA are once again taking over the League of Legends world. Two years ago, the fictional group made their debut and, after a two-year wait, fans are now getting spoon-fed all the K/DA content they'd been dreaming of. Step aside Blackpink. K/DA is in your area.
Fans won't just get to experience K/DA and their cool new skins in League of Legends and on the Summoner's Rift. No, K/DA is also making an appearance in our (other) favorite game – Teamfight Tactics.
Some of our most beloved little legends are now available in the shop with cool new skins! There are five in total, matching with the four original K/DA members, as well as Seraphine who joined the group for their performance in Shanghai and on the song More.

Coming at you L I V E, from the store! Prove you're the BADDEST and go ALL OUT with our new K/DA ALL/OUT and POP/STARS Little Legends. pic.twitter.com/Y2JvAkseKs

— Teamfight Tactics (@TFT) November 12, 2020
The skins are available in two versions: the original from their 2018 smash hit Pop/Stars and the new version from their album All Out. The animations feature songs and dances from both albums, which is going to be quite a distraction when everyone is in a carousel round. Dance party anyone?
So which little legends are available?
K/DA Featherknight: K/DA Akali and K/DA ALL OUT Akali
K/DA Hushtail: K/DA Ahri and K/DA ALL OUT Ahri
K/DA Squink: K/DA Evelynn and K/DA ALL OUT Evelynn
K/DA Furyhorn: K/DA Kai'Sa and K/DA ALL OUT Kai'Sa
K/DA Lightcharger: K/DA 2018 and K/DA ALL OUT Seraphine
The Little Legends direct purchase will go for 925 RP. If you're not as specific about which member of K/DA you want to rock when you hit the carousel, you can also get a cheaper K/DA egg for 490 RP.

Which Little Legend do you stan? Let us know on Twitter and Facebook. For more information regarding League of Legends and the pre-season changes keep reading on EarlyGame.