Project L is Riot Games' upcoming fighting game. If you're a fan of League of Legends, you knew that already. If you're a fan of fighting games... you knew that as well. What you might not have known is the latest developments around Project L. We'll catch you up.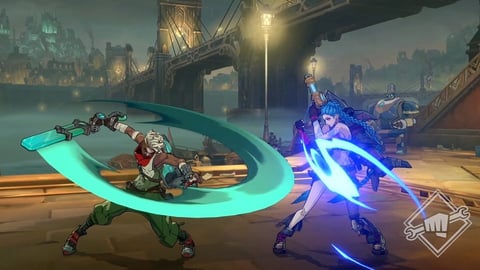 Update, November 21, 2021
With Arcane Season 1 ending, Riot decided to surprise us with some Project L news. We get a first glimpse at where Riot Games is at right now, and honestly? It looks fantastic. Have a look:
Tom & @Pond3r reintroduce Project L, an assist-based fighter set in the world of Runeterra.

Learn More: https://t.co/hg4xAQ8RJV pic.twitter.com/TDVQn2kasR

— Riot Games #RiotXArcane (@riotgames) November 20, 2021
First things first: Project L is still alive! More than that, Project L has commenced player testing. This is huge, and we're gonna give you a moment to catch your breath, enjoy a gif and then move on:
Project L Is Looking For Playtesters
We know this thanks to The Skilled Roy - a Runeterra player that got his hands on an email asking for playtesters in Los Angeles. Why Los Angeles? Because the development of Project L is based in LA. So if you're in LA or the LA area and in any way connected to fighting games... check your email.
Project L Might Be Revealed Soon
Why do we think that? Well, for one, the timing of these emails looking for playtesters makes too much sense: Evo 2021 is not far away. Where, if not at Evo, does Riot want to reveal the first real gameplay of their fighting IP? The developers of Project L are the founders of Evo after all! You see how these pieces are falling into place, right? Evo 2021 takes place in August 2021, and we expect Project L to be revealed then. More than that, we believe Project L will receive an official release date during Evo 2021.
Another reason we firmly believe this to be a good sign for Project L being close to beta is this: Valorant and Runeterra both sent out playtest invites and went into a closed beta just a couple months after.
It's all written in the stars, folks, trust us. Project L is coming, and we can't wait for the first playtest leaks.