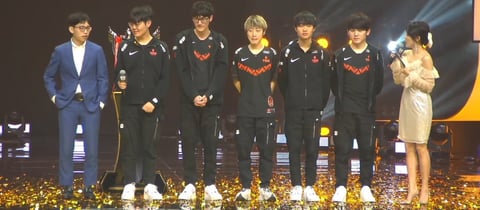 It was a crazy ride for Top Esports this year, but they end it on a high note. The LPL summer champion Top Esports defeated Team WE in the finals of the Demacia cup in a 3:0 sweep.
The All-Star 2020 event marked the end of the calendar for most LoL competitive regions, but in China, it was only the precursor to the Demacia Cup. From December 21 onwards, 24 professional and amateur teams were fighting in this week-long tournament. After winning their first ever LPL championship in the summer, Top Esports added their first Demacia Cup trophy by sweeping Team WE in the finals.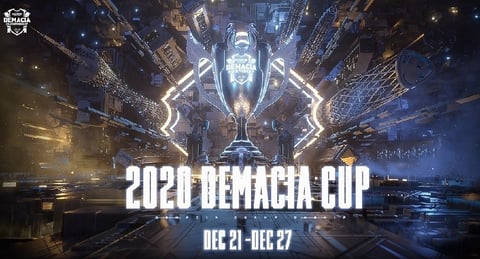 The Road to the Finals
Top Esports swept FunPlux Phoenix. Their next series was against a Vici Gaming squad that had gone undefeated in its group and taken down Worlds 2020 finalist Sunin Gaming 3-0 in the quarterfinals. Top, however, would prove to be a tougher opponent, only dropping one game to punch their tickets to the finals.
Team WE, meanwhile, faced a wholly different route. They took first place in their group, which featured other well-known teams like Invictus Gaming, Royal Never Give Up and Bilibili Gaming. In the playoffs, they took down two Worlds teams on their way to Grand Final, first sweeping LGD Gaming and then besting JD Gaming in a five-game slugfest. While they came in as the underdogs against Top, they had shown that they were not to be underestimated.
Top Esports defend their LPL crown
On the day, however, Top Esports would not be denied. WE started the first game well and, for a while, had a small advantage. However, 31 minutes in Top secured the second baron of the game and won a 4:1 teamfight after a fight near the baron. With that, they took the first inhibitor and took over the game, ending it three minutes later. The champions started game two with an early kill after catching the enemy AD carry and stayed ahead all game. Eventually, their own carries were too far ahead for WE be able to control them. The third game was much like the first, with WE offering stiff resistance early, but the favorites would once more win a clutch teamfight, followed by a baron, and win the game soon after.

While many fans hoped for more games, Top Esports proved they are the better team with great performances from jungler Hung "Karsa" Hao-Hsuan and mid laner Zhuo "knight" Ding. Knight also took the MVP award for all three games for great mid-lane carry performances.
READ MORE:
With this, the LPL 2020 year is over. The best Chinese teams will clash again in the upcoming spring split. The League of Legends esport calendar continues on January 2nd with the grand final of the KeSPA Cup, where LCK and World champion DAMWON Gaming will take on the hot challengers of Nongshim RedForce, the newest member of the LCK