Today we take a look at truenorth.bet, Canada's destination for esports and sports betting. Let's check out their gambling options and more.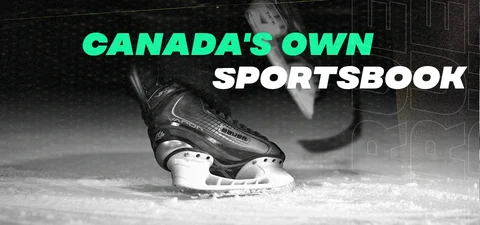 Truenorth.bet is a First Nations owned and operated iGaming destination specifically created with Canadians in mind. The betting site is licensed by the Kahnawake Gaming Commission and provides a safe, diverse and trustworthy playing environment. In this article, we will have a look at truenorth.bet and check out their esports betting options as well as their other offers.
Truenorth.bet Availability
One thing up front, truenorth.bet is only available in Canda. To sign up at truenorth.bet you need a Canadian phone number and address and be at least 19 years old.

This is no criticism, though, but just a heads-up for our readers from around the world. Truenorth.bet clearly advertises themselves as a Canadian company aimed at the Canadian market.
Truenorth.bet Welcome Bonus
Truenorth.bet has a really nice welcome bonus, especially for our esports fans out there.
So what do we get if we just signed up at truenorth.bet? As a Welcome Bonus we will get a 100% matched first time deposit offer up to $500 in Free Bets. And don't be fooled by the name. Yes, the offer is called "Sportsbook Welcome Offer", but it is actually valid for all esports markets. Even if you aren't into "real" sports, you can still use the welcome offer to make some great esports bets.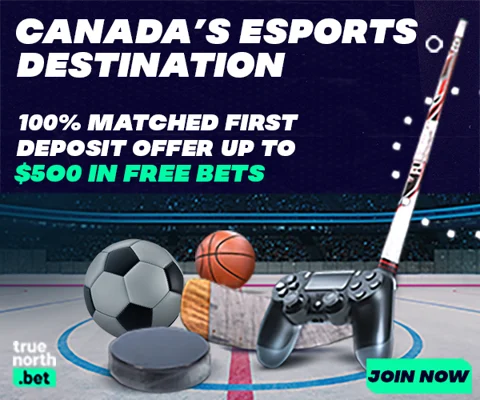 Truenorth.bet Esports Betting
As a gaming site, we are of course especially interested in their esports betting options. So let's take a look at what games are available.
At first sight, all the important esports titles are available and can be bet on: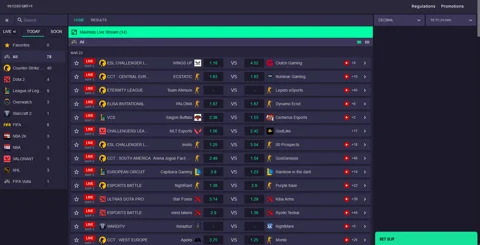 CS:GO obviously has the most options here with several events and tournaments. Next to the ESL Pro League they also offer ESL Challengers, EPL World Series, CCT: West Europe, South America and more, but also smaller tournaments like Gamers Club Liga or H2H Liga. So, CS:GO is definitely the esports title with the most betting options on truenorth.bet
However, League of Legends and Dota 2 are also represented by a bunch of important events like the Dota Pro Circuit, the LCS or the prime League.
Next to these titles, we can also find the following esports games on truenorth.bet:
Overwatch
Starcraft 2
FIFA
NBA 2k
NBA
Valorant
NHL
FIFA Volta

So, although there is still room for improvement here and more esports games could be added in the future, the main representatives are up and running with good options. If we were to make a wish we would like to see some betting options for Fortnite, Call of Duty or Rainbow Six, but as mentioned before, the big esports names are available already.
Truenorth.bet Sports Betting & Casino Offering
Obviously, a good betting site wouldn't be complete without sports betting or Casino games. So, what is truenorth.bet offering on this front?
Truenorth.bet's sports offering is huge, so we won't list every single available option. Just know that you will find most popular sports as well as some more exotic ones. Obviously, you can bet on Ice Hockey, Football, Soccer, Baseball, Basketball, Tennis and more, but you can also pick Surfing, Sumo, Water Polo or Politics... Yes, you can actually bet on the Presidential Elections in the US.
With about 45 different sports betting options, truenorth.bet definitely has something for everyone. But that's not all, they also have a ton of casino games, if you aren't interested in sports or esports at all.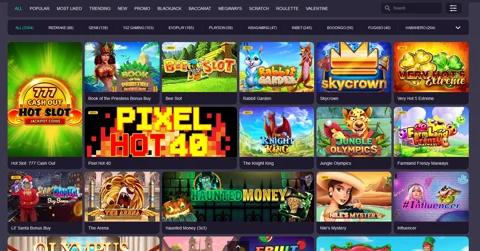 You can choose between their Casino and Live Casino options. There are over 3000 casino games from slots and blackjack to baccarat, roulette and more. The Live Casino options are also nice and offer a good variety of different games. Currently, more than 360 live options are listed on truenorth.bet under the Live Casino tab, so players should always be able to find what they are looking for.
Truenorth.bet Other Betting Options
Apart from the already mentioned offers, truenorth.bet also has some TV-Games, Virtual Sport and so-called Fast Games. Here you can find virtual football, virtual greyhound racing and more.

The Fast Games are fun little games you can just quickly get a few bets running and see how it goes. They mostly let you place a bet and then have you pull out before a specific event happens. The later you pull out, the higher your win, but if you are too late you lose everything.
You can find games like Crash, Keno, Rocketon, Hi Lo etc. here. If you are interested, they also offer demos to test out the games and you can look up the rules at any time.
Truenorth.bet Betting Limits
Truenorth.bet of course offers the option to limit spending. Every player's account comes with default deposit limits that can be lowered by day or week. The limits can also be increased on condition that appropriate reasons be provided to Support. However, keep in mind that truenorth.bet can at any time request source of funds documents.
If you struggle with a gambling problem, truenorth.bet also offers the option of voluntary closure. This means you can close your account at any time for a minimum of 24 hours and reactivate it via Support after your chosen time frame. If you decide to self-exclude for a certain period of time, truenorth.bet will exclude you from accessing your account and will make sure you won't receive any promotional materials.
A permanent exclusion is also available via Support if neccessary.
Truenorth.bet Customer Support
If you need assistance with anything, truenorth.bet can be reached via mail or the 24/7 live chat. To use live chat you need to have an active account, the support email however is available to everyone.
Truenorth.bet Security & Licensing
Truenorth.bet is licensed by the Kahnawake Gaming Commission. To make sure everything is secure, players are required to verify via ID verification by uploading their driver's license, ID card or other documents to verify their identity. All personal information will be encrypted and stored on Canadian servers with rigorous access controls. To further increase security, players are only allowed to deposit and withdraw to an account in their own name.
All in all, truenorth.bet is a good betting site for every Canadian who is interested in sports, esports or casino games. The range of games and other gambling options is huge and the website is easy to navigate. Whoever is living in Canada can check out all of truenorth.bet's offers here.