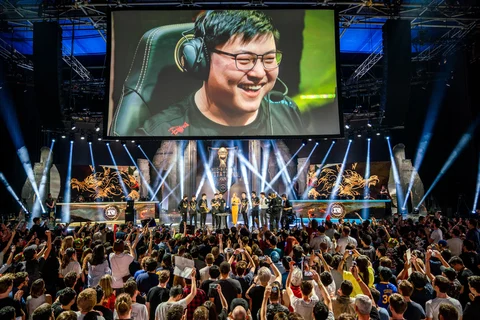 One year ago, Jian "Uzi" Zi-Hao had to retire from professional League of Legends due to injuries and health reasons. In 2020, he had to quit the game he loved to focus on his health and recuperate.
Since his retirement, Uzi has been a certified streamer for his previous esports organization – Royal Never Give Up, while also going to therapy regularly for his shoulder injury, which had plagued him during the later stages of his professional career.
More lolesports News:
When and Why did Uzi Retire?
Uzi had to retire in the summer of 2020 due to a shoulder injury. Even though he was still one of the most mechanically skilled players, he had to hang up his mouse and keyboard, and leave the professional scene.
Uzi's retirement was a grim reminder that even esports players have to take care of their health to have a long career in the scene. More and more organizations are partnering with health professionals and have installed fitness centers within their team homes to keep players healthy.
Is Uzi Returning to Pro Play?
In a recent stream, Uzi explained that he could sign another contract for 2022. His current contract lasts until the end of the 2021 LPL Summer Split and afterward, he is able to sign with any organization if he wants to.
He did say that he was concerned about his current Solo Queue rank since he is only in Diamond, and no professional player has such a low rank, which could make it difficult for him to sign with an organization.
How did Others React to Uzi Returning to Pro Play?
Other professional players have weighed in on the subject. Doublelift tweeted and basically implied that if Uzi returned to the professional scene, he would have to as well. Both players are some of the most famous professional bot laners and have always gone head-to-head in international competition – with Uzi coming out on top most of the time.
But whatever Uzi decides to do, whether it be continuing to stream, or to return to the big stage, we wish him all the best and that he continues to stay healthy!
The guides, the videos, the lore, it's all here! EarlyGame will make you Challenger!