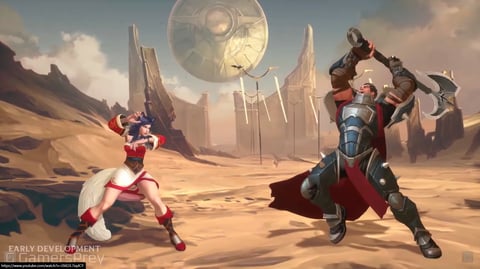 In short, Project L Is the code name for the LoL fighting game Riot is currently developing. Let's take a look at what is known about this exciting new game.
Riot Games is really squeezing the LoL IP for all its juices! They have the MOBA everyone loves with over 153 Champions to date, a new but successful mobile version of the game via Wild Rift. An LoL card game, thank you Legends of Runeterra! You are still not MTG but better than the RNG simulator, Hearthstone. And don't forget about TFT! Who doesn't enjoy a quick game of auto-chess?
The RPG spin-off is in the works and is titled the Ruined King: A League of Legends Story. The list keeps going, the recent announcement of an MMO in development, and now, here comes Project L, a fighting game based on the LoL IP. Riot Games is popping off and where will the madness stop? Is there such a thing as too many LoL-themed games?
The short, but revealing video, shows the game is still firmly in the development stage and is much more than a simple concept.

The devs of Project L were definitely just hyping us up with this teaser and wanted to be crystal clear that the game is far from even an alpha.

A big question comes to mind, what kind of fighting game will this be? A 2D game like Street Fighter? A 3D fighter like Soul Calibur? Or a platform fighter like Smash? The video showed slow downed champions fighting in a 2D plane but this video reeks of a planned demo and far from the finished product.

Sadly, the devs plan to go dark, and we may have to wait a long time before we hear more on Project L.

We were delighted to share this sneak peek, but now we're going to go dark for quite a while. In the meantime, your energy will help push us onward. Thanks again!

— Tom Cannon (@ProtomCannon) October 16, 2019
A fighting game is an interesting choice and one we were not asking for or accepting this, to be honest. Of course, fighting games are much more mainstream thanks to games like Smash, but still relatively a minor genre. Riot's LoL has a game in every genre and we expect to hear about the LoL-themed racing game later this year! Step aside Mario Kart, here comes the Iron Maiden, Rell!
EarlyGame has all your LoL news and updates in one easy place!