Your Shop is back in the League of Legends client! How do you access it, and how often does this feature occur throughout the year?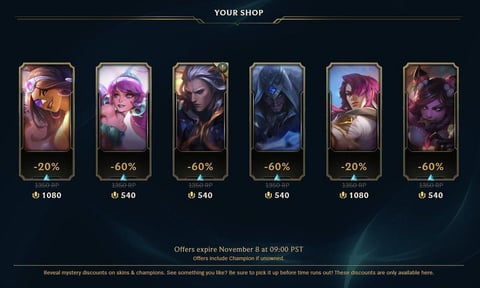 You've been eyeing some new skins for your favorite champions, but haven't had the funds to pay for them? Don't worry, Riot has got your back – and honestly selling some skins at a reduced price won't break their budget – and is giving you your own personalized skin shop.
What is 'Your Shop', how do you access it, and how often a year can you expect Your Shop to be part of the League of Legends client? Those are some questions we'll try to answer today! So if you want to get cool skins for a lower price, make sure to check out Your Shop!
What is Your Shop?
Your Shop is a recurring addition to the League of Legends client, in which players are able to find up to six skins at reduced price for champions they have played throughout the last six months. Most of the time, you'll only be shown skins for champions you actually own, but there are instances where that might not be the case.
How to Access Your Shop
Finding Your Shop is extremely easy. Just follow the steps below and you'll be able to see your personalized skin offers. Hopefully you can get a skin you've been looking to buy!
Open the League of Legends client
On the top right find the 'Your Shop' logo between 'Loot' and 'Store' logos
Click on 'Your Shop'
Six uncovered cards appear
Click on the six cards to reveal the skins and discounts
What Skins Are Included in Your Shop?
Skins of champions that you've played over the last six months will be included in Your Shop. Riot uses a specific bot called 'DiscountBot' which scores the play history of the last six months to decide which random skins will be displayed in Your Shop.
If you've played certain champions a lot throughout the last six months, you'll likely be receiving offers for those champions – even if you already own other skins from that champion.
Anyone who hasn't played League of Legends in six months will have a very random assortment of skins in Your Shop, since DiscountBot won't have the necessary data to scour for interesting skins for you.
Which Skins Are Not Included in Your Shop?
Of course, not every skin is included in Your Shop. There are a few exceptions to skins in Your Shop.

Ultimate Skins
Champions or skins released within 90 days of Your Shop's start time.
Limited Skins
Loot Exclusive Skins
Skins that are on sale during the offers
Skins not sold for RP (bundle-exclusives, Victorious skins, Prestige skins, etc.)
Can You Get Skins for Champions You Do Not Own?
Sometimes, you'll open Your Shop and see a price that is outrageously high in comparison to all the other prices. This means, that you've received a skin for a champion you do not own. When this happens, the champion will also be included in the offer.
If you do decide you want the skin, we do suggest going into the store and purchasing the champion with Blue Essence. This means that once you return to Your Shop you'll see the skin – without the champion this time – much cheaper.
Can You Get Less than 6 Champion Skins?
In some situations, where you already own a lot of skins, Your Shop could show you less than six options for cheaper skins. Though, you'll have to have spent quite a lot throughout the years to have this happen to you. RIP wallet.
When Does Your Shop Take Place?
The next Your Shop has hit the PBE Server and will likely release Thursday, December 8, 2022. The next Your Shop is going to last until January 4, 2023 so you've got one month to get some cheaper skins.
Your Shop Dates in 2022
The first Your Shop update was in February. Judging by previous years there are a few more instances of Your Shop taking place in 2022 as well. We need those cheap skins, eh?
February 10, 2022 — March 9, 2022
April 28, 2022 — May 31, 2022
July 22, 2022 — August 30, 2022
October 13, 2022 – November 14, 2022
Hopefully you manage to pull some good skins throughout the 2022 Your Shop and that you have enough RP saved up from all your Prime Gaming loot to purchase at least one or two. Hell, maybe that epic Pop Star Ahri skin will be in your possession soon, or maybe something darker like Nightbringer Kayn?
This article contains affiliate links which are marked with [shopping symbol]. These links can provide a small commission for us under certain conditions. This never affects the products price for you.