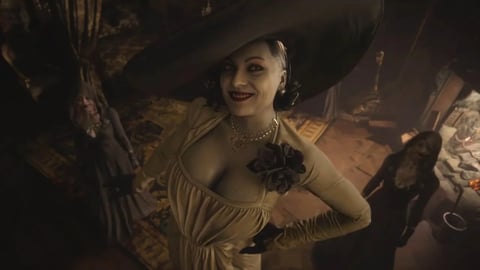 Resident Evil Village will be leaping onto our screens very soon, featuring a vampire who's become quite the talk of the town! Lady Dimitrescu is an insanely tall vampire, and she has made us all a little frightened...
It might seem like a tad of a bizarre thing to say, but boy-oh-boy that's a tall woman! In a recent GIF released by Sony, we saw her towering figure, and we almost pee'd our pants... Well, that's not quite true, but holy cow! Is she a woman, or is she a vampire? We think that she's probably a vampire, but how tall is she?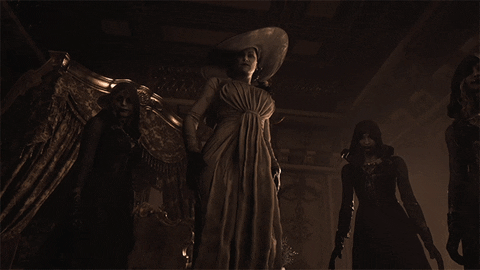 Well, we can't help but welp. It is quite bizarre how excited and curious players are getting about this giant monstrosity. Whilst we don't know if she is a monstrosity (maybe she is a really lovely lady) we have now discovered the actual dimensions we can expect when we meet Lady Dimitrescu in Resident Evil Village, when it drops on May 7.
You know that the curiosities of gamers have gotten a bit absurd when a developer comes out to address how tall a f**king vampire is in an un-released game! Well, according to Resident Evil Village's art director, Tomonori Takano, she is just as tall as we bloody expected! Check out his Tweet:
Your love for Lady Dimitrescu is loud and clear.

Here's a message from our RE Village art director Tomonori Takano, along with a very curious fact you may have wondered about: pic.twitter.com/Lj4m5pN2dJ

— Resident Evil (@RE_Games) February 2, 2021
Now that's a tall Vampire! 2.9 meters for our metric audience members, or 9'6" for our American audience members (metric for the win!). That's bloody terrifying, and makes us very nervous about playing Resident Evil Village. We have only SEEN this lady, and we are already shaking in our seats... what will possibly happen if we have to face off against her?
Well, maybe we'll need to pay her some compliments? If it comes to that, then we need to make sure that we are prepared. First thing is, we need to apologize for calling her a "monstrosity" earlier... then it's time to think of some nice compliments?
Okay, here are a couple of nice things you could... maybe say to her, if you find yourself in a sticky situation:
You have a nice dress...
That's a cool hat!
You're very unique.
You're insanely tall... oh, that's not too flattering.
Okay, it's probably better to just f**king run away at this point...
Want to only see the video game news you're most interested in? Want to personalize your gaming news feed? Then check out our brand new MyEarlyGame!
READ MORE:
For more gaming and esports news, stick to EarlyGame. Get in touch with us on Discord, or engaged through our Twitter and Facebook. Remember to check out our YouTube channel!