Every month, we treat new and returning members of our community to a gift card for a game of their choice. Looking for those Riot Points? Maybe some V-Bucks? Then here's how you can sign up.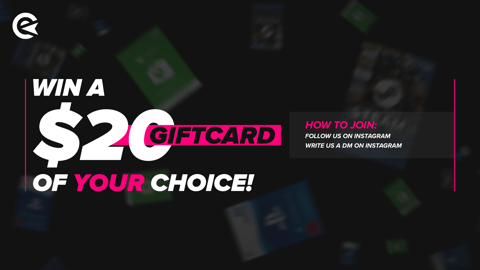 Every month here at EarlyGame we give away a gift card to one of our Instagram followers. Here's how to sign-up and get involved!

How Do You Enter The Giveaway?
To enter the giveaway, all you need to do is subscribe to EarlyGame's official Instagram and send us a direct message on Instagram that includes the phrase "EarlyGame Giveaway + April". Even if you've already signed up, you can still partake in the giveaway each month by sending us a direct message with that same phrase. Good luck!

What Can You Win?
The giveaway reward is a $20 gift card for your favorite game, so no matter whether you play Call of Duty, Fortnite, League of Legends, Valorant, or really any game, you can win some in-game cosmetics. Don't worry if you're applying from another region and need a gift card in say Euros or Pound Sterling, we can arrange to send you a gift card code of the equivalent value.
Why Join The EarlyGame Community?
Besides the chance to win a gift card, we think any gamer would stand to gain by joining our community; we cover all the hottest games, we have some of the best esports analysts in the industry, and we're always the first to report on the latest leaks. Hopefully it doesn't sound like we're too full of ourselves from that description, but we're proud of what we do, and we think a lot of our fans would agree. While you're here anyway, why not take a browse and see what you think? And if you have any suggestions, and want to meet our other fans, join our official Discord server.