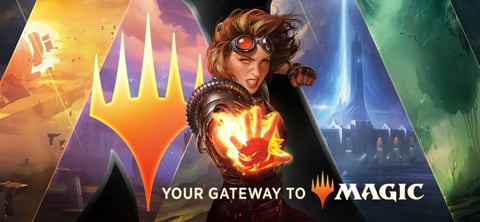 Magic: The Gathering Arena is out on mobile, at least for Android users with newer phones. Many of us have been busy playing the Kaldheim release weekend events, so it's only natural that we have tons of questions. Here's the info we have about Arena Mobile so far, so you'll know exactly what to expect jumping in for the first time.
What Do I Get MTG Arena Mobile?
Magic: The Gathering Arena for mobile is - theoretically - exactly the same as the PC version, even down to the name. With the exception of some UI tweaks to accommodate all the content on a smaller screen, the mobile game's core functionality, gameplay, and card pool are exactly the same as its bigger brother.

Much like Hearthstone's mobile version, for example, this phone client will use your existing Wizards account and access your collection and cosmetics so you can play either way. There are a few specific features that are still lacking, such as the social aspect (friends and chat) and sideboarding during draft (boo-hoo!), and code redemption is a bit clunky - if you redeem a code on the website, you'll still need to go to the in-game store on your phone to actually unlock the thing. Be on the lookout for these, but honestly, no sleep lost over any of them.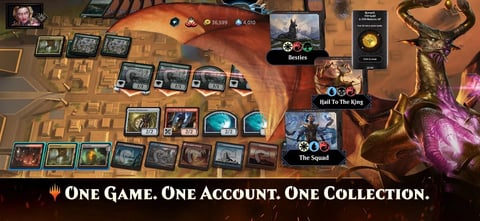 Is MTG Arena Mobile Available?
Well, yeah. Sort of. It launched on January 28 alongside Kaldheim, and it's right there in the Google Play store. If you're not seeing the app, that probably means your phone is not supporting it. You'll need a device with Android 6.0 (Marshmallow), 4 gigs of RAM, and one of these chipsets: Kirin 970, Snapdragon 845, or Exynos 9810. Or, of course, anything better will also run the game. If you're an iPhone or tablet user, you're out of luck - these versions come later in the year and no release date is even been hinted at.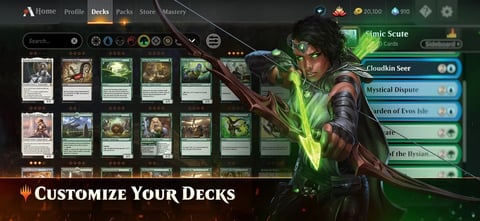 Can I Use My Phone To Compete?
For Urza's sake, please don't! While you technically can (it's the same game, after all), even Wizards were wise enough to caution against it. With the app being in early access (what isn't these days?) there is an expectation of bugs, inconsistencies, and connectivity issues. According to MTG competitive rules, players take personal responsibility for the connection on their end, so if you're playing for cash or trying to qualify for the big leagues, you're much safer in your gaming chair instead of the… other seat often used for mobile gaming. At least for now!
Speaking of Bugs…
There will be some. Wizards have a handy page where you could report these and check out what other players are reporting. In addition, there's the MTGA Status page where you can check and see if everything is online. Go try the app and take advantage of the early access state - if you want something changed, now's the time to let Wizards know!


For more MTGA content keep coming back to EarlyGame!