The dust has settled after the Kaldheim prerelease weekend and the Viking-powered set is now officially out. It's time to crack some packs and build some Standard decks. Here's how to get your first few boosters for the low low price of FREE!
The First 3 Boosters
It's very easy to claim the first three boosters for absolutely free. Navigate to the in-game store, find the code slot in the upper right and punch in PLAYKALDHEIM. This will instantly grant you 3 boosters. In case you haven't done this in the past, older codes work as well, so go in and try PLAYZENDIKAR, PLAYIKORIA, TRYKALADESH, PLAYM21, PLAYTHEROS, PLAYELDRAINE... Try even older sets and see what happens!

Once you've claimed your codes, it's still possible to get booster packs, but you'll have to… you know, play the game! There are two paths leading to free cards - the Kaldheim Mastery and the Ranked Seasons.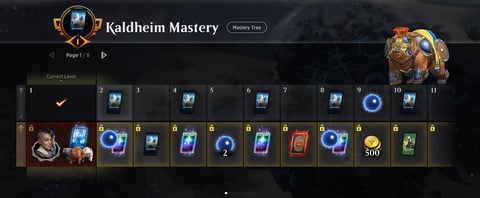 Kaldheim Mastery
Just by playing the game, you'll earn experience points and climb the Mastery levels. Every other level will award you a free pack even if you don't spend any money. If you do shill the asking price of 3400 Gems, you'll receive a special Niko Aris avatar, a World Tree card back, but also new prizes on every level of the Mastery, including packs from older sets.
Ranked
The other way to get packs, not to mention other rewards like gold, styles and even chance to compete in big tournaments, is playing Ranked. The current season has already begun and will be going on until February 28. When the month is over, you receive prizes based on your performance:
Bronze: 1 Kaldheim booster pack

Silver: 1 Kaldheim booster pack + 500 gold

Gold: 2 Kaldheim booster packs + 1000 gold + Bloodsky Berserker Card Style

Platinum: 3 Kaldheim booster packs + 1000 gold + Cosmos Charger Card Style

Diamond: 4 Kaldheim booster packs + 1000 gold

Mythic: 5 Kaldheim booster packs + 1000 gold
Also, the top 1200 Mythic players will be invited to the February Kaldheim Qualifier Weekend. Have fun cracking those packs and may all your pulls be Mythic!
For more MTG content and free stuff keep coming back to EarlyGame!