You've always wanted to become an air traffic controller or just want to know what it takes? Today we'll explain how the application process works at Deutsche Flugsicherung – DFS – German Air Traffic Control.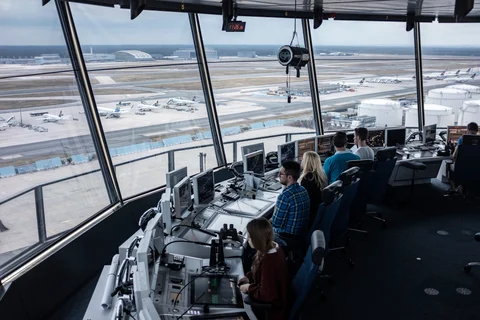 DFS or Deutsche Flugsicherung or German Air Traffic Control is looking for applicants! 33 days of vacation, 100,000 € per year starting salary, obligatory spa stays and much more is waiting for you. Sounds pretty nice, doesn't it? If you have no idea what DFS is or what an air traffic controller actually does, you should take a quick look here:
So, did you do your homework? Now that you know what German Air Traffic Control and air traffic controllers do, you're probably wondering how you can apply or how training works. Today, we would like to give you a brief explanation of what you need to bring with you to apply to DFS and how the selection process for air traffic controller training works.

That's What You Need For A Successful Application At DFS
As with any other profession, certain requirements must be met when applying to become an air traffic controller. However, there are only a few requirements that could prevent a successful application from the get-go. In the subsequent selection process, the focus will be on certain skills and talents that you probably don't even know you have.

But before we get to the selection process, let's take a look at the most important application criteria. The following requirements must be met for an application and can be read here again:
High school diploma or higher
Not older than 24 years
English language skills at C1 level: English up to the Abi or a C1 certificate is sufficient as proof. You should be able to communicate in English without any problems.
Medical aptitude: This will be checked during the selection process, but if you have really thick glasses or poor color perception, you can save yourself the trouble of applying.
These are the most important exclusion criteria for an application to DFS. If you meet all of the above criteria, you can simply shoot out an application. Of course, we can't guarantee that you'll be accepted, because you'll have to pass a number of tests in the subsequent selection process.

But before we go into more detail, you can take a look at what matters in the selection process here. It's German Air Traffic Control after all, so don't be alarmed the video isn't in English:

The Selection Process
As already explained in the video, you will have to take two online tests after your application. Here you will mainly be asked questions about your school career, motivation, leisure activities and the like - so don't worry, there is nothing to learn on these tests. If you have passed these tests, you will continue to Hamburg. The selection procedure takes place there. The aim of this procedure is to find out whether you really have all the skills and talents needed to work as an air traffic controller. These talents include the following in particular:

Concentration & vigilance

Memory
Spatial thinking
Dealing with numbers
Reaction speed & accuracy
Multitasking
Management of complex & dynamic information
That sounds quite demanding at first, and yes, admittedly, it is. However, most of you probably don't really know whether or how well you will perform in these skills. And that's exactly what your first visit to Hamburg is for. First of all, your performance requirements will be checked and you will also be allowed to take your first simulation and multitasking test.

If you pass these tests again with flying colors, you will be invited back to Hamburg at a later date. Now your ability to work in a team and your English will be tested and you will have a one-hour interview. Quite normal, just like you know it from other jobs. Who are you? Why did you apply here? What are your strengths and weaknesses? What is your motivation? Blah, blah, blah.

Then it's off to the doctor to check your medical fitness, and bang, you've made it through the DFS selection process. The medical test is mainly to see if your eyesight and hearing are good, especially color vision is very important, but also your visual acuity must not be too bad.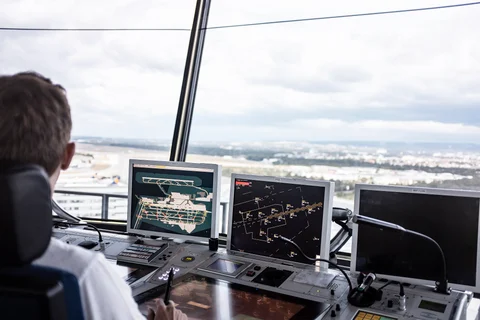 Can You Even Do It?
Going through the selection process completely and then starting training to become an air traffic controller is no easy matter. A bit like getting out of silver as a noob in CS:GO.... In fact, only about 5% of applicants pass the selection process, but that shouldn't stop you from applying.

As already mentioned, you can't prepare very well for most of the tests, since they mainly test talents that you either have above average or not. This means that even if you don't pass the entire selection process, you'll still have learned a lot about yourself and possibly even had a nice trip to Hamburg.

Oh, and since you're a gamer, you're probably even better at some of the above than non-gamers. After all, the ability to concentrate and react quickly and accurately are central components of shooters like CS:GO or games like League of Legends or Dota. Keeping an overview and making the right decisions even in the heat of the moment is definitely a skill that can help you as an air traffic controller.

So once again in a nutshell: Don't be intimidated! As long as the few exclusion criteria at the beginning of this article don't apply to you, there is nothing to stop you from applying for a job as an air traffic controller.