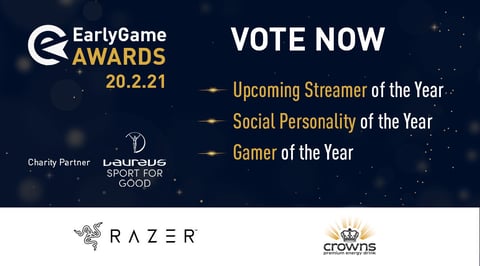 This is what we've all been waiting for: the vote for the EarlyGame Awards, in favor of Laureus Sport for Good! Every vote counts, so vote for your German favorites in the gaming world now.
On top: Donate to win one of five Razer packages (Twitter: @RazerGermany) worth €2,500 in total and a 4K Panasonic TV worth €1,200! Additionally, Crowns Premium Energy Drinks supports us - so you can keep watching your favorite streamers for 10 hours straight without any problems!

The best part of an award show? Saying what's on your mind. You know it's true. And that's exactly what you can do today by voting for your favorites in each category of the EarlyGame Awards to benefit Laureus Sport for Good! Mark your calendars for Feb. 20, 2021, because that's the day the show will go live with the winners!

Vote as hard as you can and don't forget:these EarlyGame Awards are for a good cause.

So, if you want to donate a little something at the end, feel free to do so. This also gives you the chance to win a 65-inch UHD 4K Panasonic Smart TV or one of five Razer packages (Twitter: @RazerGermany)! Gaming gear worth a total of €2,500, folks! A package includes: Razer Ornata V2, Razer Kraken Ultimate, Razer DeathAdder V2, Razer Goliathus Chroma Extended.

THE DONATIONS ENDED. THANK YOU TO EVERYONE THAT DONATED!

It doesn't matter how much you can donate, every little bit supports the future projects of Laureus Sport for Good. For every euro you donate, you get a "ticket". So, the more you donate, the higher your chance to win. Example: €1 = 1 ticket, €50 = 50 tickets.

If you are here mainly to support your favorite, then you can do that now.
Let's go, baby: it's voting time. (Note: don't forget to click on SUBMIT at the end!).
Vote Now!
Be sure to stick around on EarlyGame to be a part of this fantastic journey and sign up for MyEarlyGame to have an even greater experience on this website!
Original article by Michelle Stummreiter.