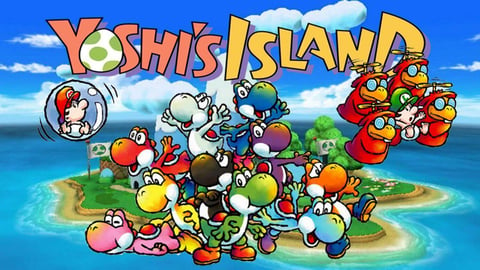 It's the end of the worst year in recent history – 2020. It was truly terrible and exhausting, but just the right background to make yourself a hot chocolate, sit back, and reminisce of better times.
Fancy a little nostalgia trip? We at EarlyGame wanted to do something special for you, and therefore present you with a selection of the best retro video game soundtracks! Of course, some great classics are represented, but there might be one or two surprises along the way! All Nintendo and Sega disciples, all those who gambled on the Super Nintendo (SNES), Nintendo 64, or Sega Genesis, should feel right at home here! First, some Nintendo classics are presented, and then we turn to the Sega smash hits.
Super Mario World 2: Yoshi's Island
Yes, yes, yes, Super Mario World is the more popular game, and would be expected by many to be on a list like this. BUT: I never played it... and instead spent my afternoons on Yoshi's Island! As with all SNES games, you notice the limitation of the hardware these days and it might sound a bit weird to modern ears. But this is made up for with fantastic compositions and a unique playfulness.
The wizards over at Nintendo, and legendary composer Koji Kondo, have made gold out of dust in just about every game, and this is especially true with Yoshi's Island. One of the most magical and playful soundtracks in Nintendo's history.
Donkey Kong Country
Ah, Donkey Kong Country. Not only is it, in my humble opinion, one of the best platformers ever, but also has a terrific soundtrack that I still extremely enjoy listening to. Here, composer David Wise has got everything out of the Super Nintendo that the old clunker had to offer. The limited space of the console is used fantastically to create a wonderful atmosphere through minimalistic songs. This always fits the current level, no matter if the Kongs are jumping through jungles, caves, or lagoons.
Besides, if you don't immediately start swinging your hips during DK Island Swing, you really can't be helped!
The Legend of Zelda: Ocarina of Time
I don't think anything really needs to be said about this game, does it? The Legend of Zelda: Ocarina of Time is not only one of the absolute classics of video game history, but it also has a fantastic soundtrack (again by Koji Kondo)! I think any gamer worth his or her salt could hum along with at least a couple of these tracks.
The Nintendo 64 offered much stronger audio hardware than the SNES, and it shows: the tracks sound much cleaner and offer a richer sound. Kondo's compositions, however, are unmistakably the same: simple, concise, full of magic and joy. Simply brilliant!
Now, let's move onto some SEGA Genesis games that will either transport you back to you childhood, or blow your socks off even without nostalgia!
Sonic the Hedgehog
Sonic the Hedgehog shouldn't be missed from any list of Sega soundtracks, of course. The little blue speedster is still the biggest icon in Sega's history. The soundtrack has certainly made its contribution. Masato Nakamura's funky, entertaining OST is the perfect accompaniment to the speeding adventures of the darting Hedgehog. I still hum Green Hill Zone to myself occasionally, and who could blame me? It's so bloody catchy!
Gunstar Heroes
While Gunstar Heroes isn't necessarily one of the greatest classics, it's a cult favorite with a banging soundtrack! Norio Hanzawa's futuristic synth sounds are still a treat to the ears and fill the game's sci-fi world with quite a bit of character. Plus, the driving soundtrack fits perfectly with the adrenaline-fueled run and gun gameplay. And it's good for jogging, too!
Streets of Rage 3
Finally, here's a crazy bouncer! What Yuzo Koshiro and Motohiro Kawashima have done with Streets of Rage 3's soundtrack is absolute insanity, to say the least. Using the latest technology (at the time, at least), the two composers created an experimental sound reminiscent of IDM by artists like Aphex Twin, or trance music. It's certainly not for everyone, but if you're up for harsh, unusual sounds, you're still in for an absolute blast of a soundtrack here!
Weapon of Choice: Fortnite Season 5 Mythic Weapons
View gallery
READ MORE:
For more gaming and esports news, stick to EarlyGame. Get engaged through our Twitter and Facebook, and check out our YouTube channel!
Original article by EarlyGame's Faris Delalic.