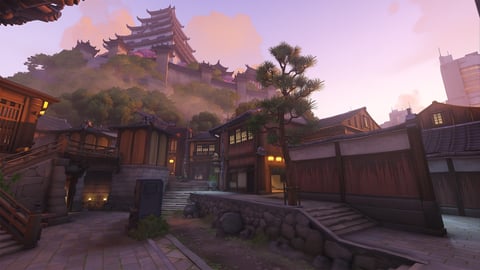 Activision Blizzard have released a major update for Overwatch yesterday. This brings a number of changes and new content – including the new map, Kanezaka! See everything about the new map, challenges, skins, and more here!
Yesterday's Overwatch update is all about the new map: Kanezaka! The map is supposed to be geographically located next to the classic Hanamura, so it is once again set in Japan. The parallels are clearly recognizable, but Kanezaka looks a bit more modern, and really chic!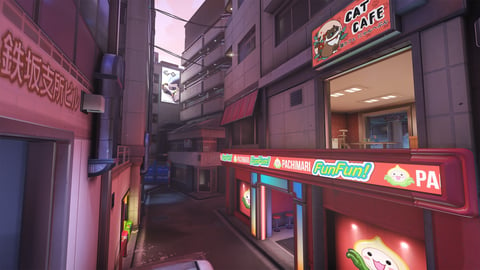 Kanezaka is a free-for-all deathmatch map. Blizzard describes it as follows:
"Fight for survival on an exciting battlefield, amid ancient stone buildings, towering steel giants, and cat cafes. Crush your enemies' dreams in the pottery store, take the fight to them in the Tora no Sumika nightclub, or climb the tower in the heart of the city to get a view from lofty heights."
We're really looking forward to the new map! With its release also came specific challenges that bring cool rewards.
Kanezaka Challenge
"Celebrate the release of Overwatch's newest map with the Kanezaka Challenge! Until January 26, you can earn limited-time rewards, like the new Kyōgisha skin for Hanzo, by winning matches and watching Overwatch on Twitch."
You can unlock the following rewards by winning ranked matches, Quick Search, and Arcade:
WIN 3 GAMES – Player Icon: Pagoda
WIN 6 GAMES – Spray: Yōkai
WIN 9 GAMES – Skin: Kyōgisha for Hanzo
Furthermore, you'll get rewards for watching Overwatch on Twitch. See all the information about it on the official Overwatch website.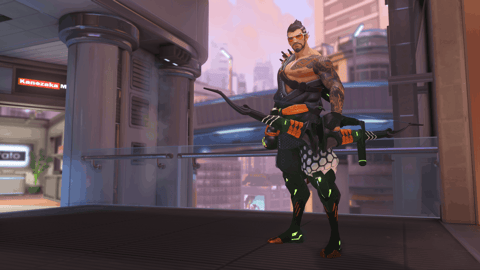 In addition to the new content around 'Kanezaka', a number of hero updates also came with the new update:
ASHE
Ashe could take out enemy heroes with 200 hit points with a single headshot, if she benefited from 30% damage bonus. This is too powerful, especially when combined with the other enhancements to her weapon. They reduced the maximum damage, but also the delay between shots to keep her overall damage about the same.
The Viper
The damage when using the visor has been reduced from 80 to 75.
The delay between shots when using the visor has been reduced from 0.7 to 0.65 seconds.
HANZO
This change to rate of fire improves the feel and effectiveness of the Storm Arrows ability. It is minor, but noticeable with fire arrows.
Storm Arrows
The delay between shots has been reduced from 0.3 to 0.25 seconds.
SIGMA
Cooldown of Sigma's Barrier has been increased to make placement a more important decision, and easier to counter.
Experimental Barrier
The cooldown for re-placement has been increased from 1 to 2.5 seconds.
WRECKING BALL
After the last extensive weakening of damage and control abilities in the game, Wrecking Ball was a bit too resilient due to its high mobility and strong shields. We are reducing the amount of additional shield points that his Adaptive Shield ability can generate per target. The base value of 100 shield points remains unchanged.
Adaptive Shield
The amount of shield points generated per enemy has been reduced from 100 to 75.
In addition to the hero updates, there were a number of bug fixes. See the full list of fixes and changes on the Overwatch page.
Want to only see the video game news you're most interested in? Want to personalize your gaming news feed? Then check out our brand new MyEarlyGame!
READ MORE:
For more gaming and esports news, stick to EarlyGame. Get in touch with us on Discord, or engaged through our Twitter and Facebook. Remember to check out our YouTube channel!
Original article was written by Faris Delalic.