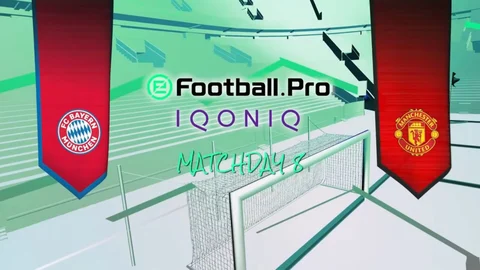 Matchday 8 of the eFootball.Pro League in PES 2021 - the penultimate matchday of the group stage, was full of exciting matches, close wins, losses, and incredible moments. We also have the first clubs confirmed for the knockout stage of Matchday 8 of the eFootball.Pro League in PES 2021.
A special highlight was the last match of the day: Bayern München vs. Manchester United. The duel developed into a true goal festival that exceeded all expectations.

Bayern München and Manchester United Produce a Goal Bonanza
The Bayern München vs. Manchester United matchup was awaited with great excitement, since the clubs were super-close before matchday 8. In the end, let's put it this way: our already high expectations were exceeded.
The first game of this match saw Bayern in top form, and was one of their best performances this season. The Munich side quickly got the better of their Manchester rivals and, with four goals in the first half, won the game early on. Bayern dominated the entire match, which finished on a 5-0 scoreline. Alejandro "Alex Alguacil" Segura in particular stood out: a hat-trick and a Man of the Match award.

In the second game, however, Manchester United came back with vengeance. The game was a constant back and forth with Kamel "Kams10_" El Morabet scoring the first goal in the second minute. Bayern turned the tide with goals from Miguel "MESTRE" Oltras and Jose "JOSE" Carlos Sánchez Guillén, but the Munich lead did not last long. El Morabet scored two more goals from a hat-trick before his colleague Eldridge "E_C_Oneill" O'Neill's time to shine came. He scored not once, but twice from the halfway line, to make it 5-2 for Manchester United and end this dizzying pairing with a point share.
Bayern's Alex Alguacil expressed frustration at losing the second game, despite a good performance:
To be honest, without being disrespectful to [Manchester United], we were much better in both games. I don't know if we still have a chance to finish in the top six. But we are a team that works hard every day, so I'm happy.
Other Results from Matchday 8
Points were also shared by the other German participant in the tournament: Schalke 04. The Königsblauen managed a narrow 1-0 victory in the first match against Juventus. In the second game, however, Juventus clearly dominated the action and quickly took a three-goal lead. Schalke only managed a consolation goal for the final score of 3:1.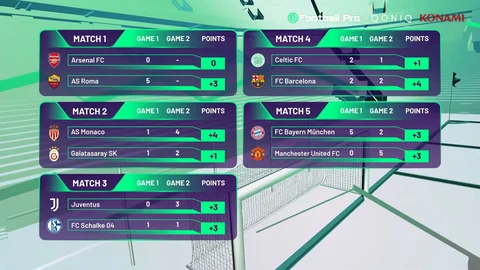 Arsenal vs. Roma got off to a promising start, with a clear 5:0 win for the Romans. Man of the Match was Stefan "KEPA" Slavkovic, who scored four goals and set up the fifth, scored by German player Emiliano "S-Venom" Spinelli. The second match had to be postponed due to technical problems. When it was finally played, it was dominated by KEPA once more. His hat-trick in the 3-2 victory secured Roma's place in the knockout stages.
Monaco also qualified, following their match against Galatasaray. The Monegasques struggled at the beginning, and only managed a 1-1 draw in the first game. The league leaders showed their superiority in game 2, with a convincing 4-2 victory that eliminated the Turkish side from contention.
Joining Galatasaray in the "knocked out" section is Celtic. A 2-2 draw in game 1 vs. Barcelona was not nearly enough for the Scottish side. Blaugrana pulled off a 2-1 result in the second game to keep their own hopes of advancing. They are currently seated sixth, just above Bayern and Manchester United.
If you want to stay up to date with eFootball.Pro IQONIC, check out their official website! Here is a full video recap of everything that happened on matchday 8:
Create a MyEarlyGame account now! It lets you customize our site and enter all of our giveaways. You can also follow us on Instagram, or join our Discord for a fun chat.
Original article by EarlyGame's Faris Delalic.