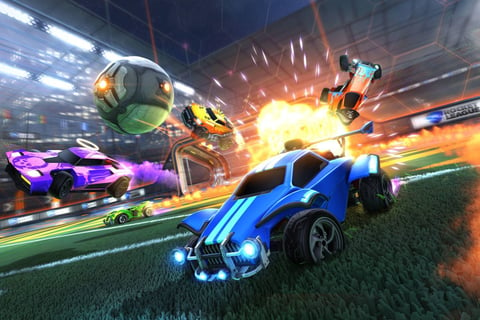 Rocket League is already an old acquaintance in the gaming world but the number of players has been increasing rapidly since the title became free to play. Can Rocket League become a big player among gaming titles?
The gaming world is constantly changing. New titles come and go and that is especially true for arcade games which are meant for quick fun with friends – they usually disappear relatively quickly. Rocket League, however, is a clear exception to that rule. The car football game has been around for 5 years now and it is anything but disappearing.
Technically speaking, Rocket League is an absolute top game. Thanks to Unreal Engine 3, the gameplay and graphics are both top-notch. In addition, there have been numerous innovations over the past years as well as ports for various consoles, most recently for the Nintendo Switch. The biggest change came with the takeover by the Fortnite developer Epic Games. For almost a month now, the game has been available for free on Steam.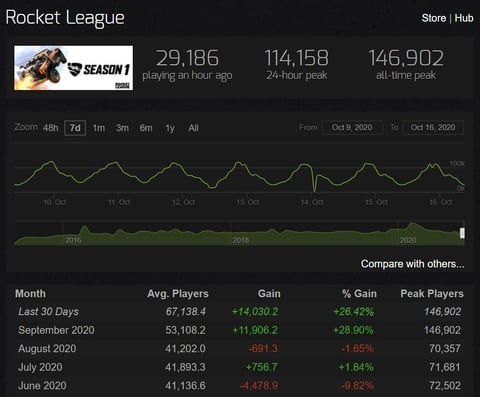 Free-to-Play and Season Challenges
If you look at the number of players, you can see an almost explosive increase. Thanks to the Free-to-Play model, Epic Games was able to attract many new players to car football. The number of average players has remained stable for weeks as the player base has been gradually increasing. There's no telling if the trend will continue but so far, there are no signs of it stopping.
In terms of content, a lot has changed since last month. In addition to the obligatory Rocket League Battle Pass, there are now Season Challenges where players receive rewards for reaching certain milestones. These include weekly challenges that change every Tuesday and season challenges that are divided into different stages. The different stages are unlocked at different times of the season and contain different challenges that reward you with experience points and rare drops.
What About the Rocket League Esports Scene?
As far as the esports scene is concerned, the game is already in 13th place behind Rainbow Six Siege in terms of prize money. However, like any other title, Rocket League has had to accept cuts in events due to the COVID-19 pandemic.
The scheduled finals of the Rocket League Championship Series could not take place but with the tenth season of the RLCS, some big changes are coming up.

Similar to League of Legends, you will play different splits throughout the year: Fall, Winter, and Spring. These will culminate in a single World Championship each year, with the best teams from each region competing for up to $1 million in prize money. Meanwhile, the RLCS Season 10 split matches are already underway.
The Fall Split #RLCS Regional Majors are back this weekend!

Check out the Pre-Jump and read up on some of the biggest stories before teams take to the field.

Read here : https://t.co/jivJN1ThAi pic.twitter.com/80FhUxLYqM

— Rocket League Esports (@RLEsports) October 14, 2020
For Rocket League, a number of adjustments have been made recently. Free-to-Play, a Season Challenge system like in Fortnite as well as the changes in the esports scene are well suited to the game and could push the upward trend further. Now it remains to be seen how Rocket League will develop in the coming months.
What do you think about the current developments in Rocket League? Will we soon see the title at the top? Share your thoughts on our Facebook page!
More news from the world of gaming can be found on EarlyGame and the EarlyGame YouTube channel!
Original article written by EarlyGame's Nikolas Krudewig.