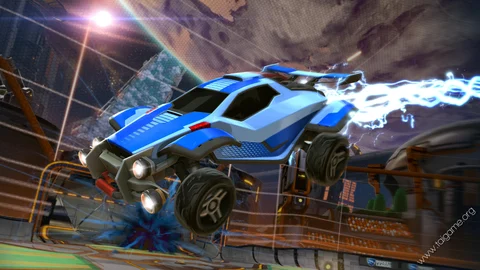 The Rocket League Speed Flip is one of the most coveted moves in the game. Let's take a look at how to Speed Flip in Rocket League, and expose the Rocket League Speed Flip Training Pack, what it is, and a few of its codes.
Getting speedy is a sure-fire way to succeed in Rocket League. Amping up the speed of your offense is key for scoring goals efficiently and effectively. On the flip side (heh, get it?), the faster you get to a defensive position, the easier it is to stop your opponent from scoring. Seems pretty obvious, right? Well, yeah, but that doesn't mean that you necessarily have the chops to pull it off.
Enter the Speed Flip, one of Rocket League's premier moves, and the perfect way to overtake your opponent. Do you want to rank up? Well, there are two things you need to do: read EarlyGame's Rocket League Tips & Tricks page, and learn how to Speed Flip in Rocket League. We also have a little treat for you, so stick 'round till the end.
How to Speed Flip in Rocket League
Perform a diagonal flip, but make sure it is not too much, you don't want to go too far to the side.
Flip cancel after performing the diagonal flip, by pulling down the left stick immediately after initiating the flip.
Use an air roll whilst doing the entire maneuver. In other words, complete the above steps whilst holding down the air roll button.
Combining all the above actions should initiate a speed flip in Rocket League, but if you want an extra tip, use a boost pad to add some additional speed to this move.
Make sure to practice the Speed Flip by using a training pack. We'll cover this now.
What is the Rocket League Speed Flip Training Pack?
The Rocket League Speed Flip Training Packs are a collection of resources available to players via codes. These codes unlock specific tutorial packs, many of which were curated by various Rocket League content creators. They are pretty cool, and a great way to learn the Speed Flip in Rocket League, so you should certainly check them out if you want to master this vital skill. Here are the codes...
What is the Rocket League Speed Flip Training Pack Code?
A503-264C-A7EB-D282
315D-FBC3-D181-8DE7
1E11-4553-CCE6-3B6B
98E6-EF86-7BD6-E585
BFAA-45A5-7A56-73CC
D278-781E-6C94-C1A1
E22B-497C-B5ED-E07A
509F-22E6-1441-05AD
Well, there you have it, brothers and sisters of Rocket League. It's always good to learn more premier moves, so that you can bring your A-Game to Rocket League and have a jolly ol' time. The Speed Flip in Rocket League is one of those moves, and something that you certainly need to master before you can ever hope to become a pro.
Read More:
Welcome to EarlyGame, your one-stop-shop for everything Esports and Gaming. Check out MyEarlyGame for an exclusive and customizable experience, and to become part of the EarlyGame family. Get engaged on Twitter and Facebook.