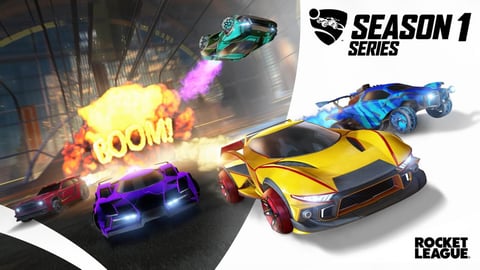 Since it switched to a free-to-play model, Rocket League has enjoyed steadily growing player numbers. As in every game, there are a few things to keep in mind when starting your Rocket League career. In today's guide, we'll show you how to optimize your camera settings and you'll find the best training modes to help you get started!

Getting the Settings Right!
Every beginning is hard – even in Rocket League! In the last two months, player numbers have exploded and the queues are filling up with new car football recruits. Even though the gameplay is super simple, there are still some basics that beginners must be aware of.
In our guide, we will show you the right settings for Rocket League and how you can use training modes to quickly improve your skills.
Camera Settings
As boring as it may sound, the first thing you should do before you jump into a game is to take a look at Rocket League's camera settings. As with any other game, the camera and graphics are set by default to look good rather than perform well. With the right settings, however, you will already be far ahead of your opponent.
We recommend adjusting your camera so that you have more distance from your vehicle, and can thus see more of the field. The most important thing is your field of view which you should set to 110°. You should also deactivate "camera wobble" as it can be very annoying when you are playing, or even make you feel unwell if you suffer from motion sickness. Everything else is just a matter of taste – take a quick look at the picture!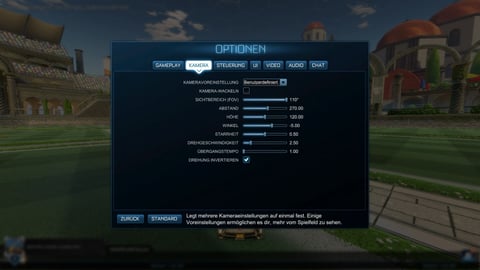 Camera Perspective
Getting the right perspective is also of immense importance in Rocket League. Many beginners take a long time to realize that it is possible to switch between the ball and car cameras. The former should be used the most frequently, as you will never lose sight of the ball. This is useful because it helps develop a natural feeling for the car and the field.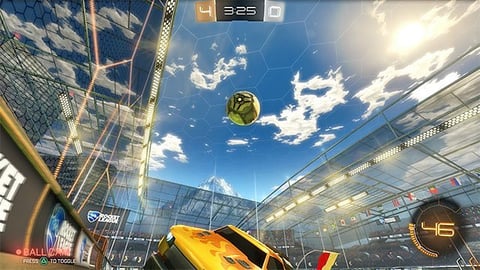 It is also important to change your perspective in certain situations. For example, if you want to drive up the wall to hit the ball, or start a solo in the manner of Messi, you should switch back and forth between the camera perspective.
Rocket League Training Modes
Practice is half the battle! Like any football pro, you have to invest time and effort into Rocket League. A lot of players overlook the training modes, but it is the perfect way to learn the basics! You have many different options.
Here you will find a number of different scenarios that help improve your skills in specific mechanics. These can include goalkeeping, jumping and finishing exercises. Learn basic game mechanics and perfect them later, or use the "Free Play" mode to warm up a little before your next ranked game.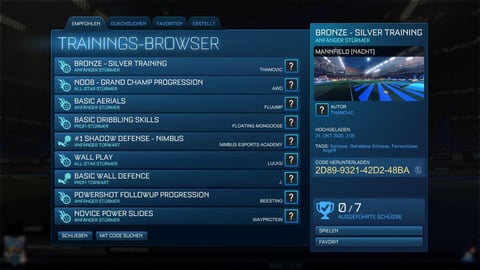 Community Modes

Similar to Counter-Strike, you can create your own training modes and make them available to the Rocket League community. In Community Modes, you will find all sorts of exercises that can help you with more specific mechanics. For example, you can train to play a ball away from the wall and then score a goal whilst flying!
Workshop Maps
All the Steam users among you can also take advantage of the workshop. There is some pretty crazy stuff going on there – be sure to check it out!
Even with all the tips and tricks in the book, you cannot avoid the following: practice, practice, practice. If you want to become a Grand Champion, you have to invest time and patience. It is much faster to start, however, if you already have some tricks up your sleeve! We hope you enjoyed this guide – check back next time for even more rocket league!
For more news from the world of gaming, check out EarlyGame and the EarlyGame YouTube channel!
Original article written by Nikolas Krudewig