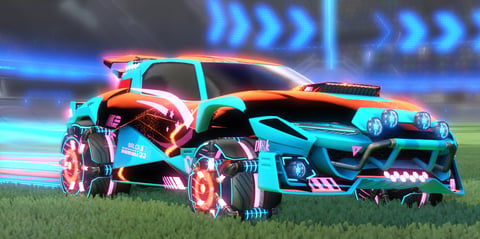 Talk of the town has been that 'Stipple Gait' is insanely valuable in Rocket League. Its been trending, and it looks cool-as-hell. The problem is, its value is dropping in recent days, despite it still being a little hard to acquire. It might be a Black Market decal, but it's worth checking out.
Who doesn't like bling? Skins and styles for your favorite cars in one of your favorite games: Rocket League. They're fabulous, and we're in love with them. The 'Stipple Gait' is one such decal, offering a reflective and honest, just awesome, color scheme for your football-vehicle. Check it out!
New Black Market Decal "Stipple Gait" from RocketLeague
Looks pretty awesome, doesn't it? But how much does it cost? The answer is: an INSANE amount! Over the last months, the Stipple Gait has averaged at around 1650-1750 credits. Now, considering that Rocket League's credits are approximately valued at $1USD per 100 credits, that makes this around $16.50-17.50 USD... FOR ONE SKIN!
That's pretty wild, but it is interesting to see that it has dropped in recent days to more around 1500 credits. Is it not as wanted anymore? Well, that would be a bit weird! This skin is awesome, and beautiful, and just the best. Who wouldn't want to blast your way through a match looking this awesome?
If we're honest, we still find it crazy that humans will pay that much just for a skin, but it is the 'Black Market' so... oh gotta get that bling! Hell yes! Here are the details you should be aware of:
Rarity: Black Market
Type: Decal
Series: Season 1 Series
Release: October, 2020
Stipple Gait in not paintable, but it is certifiable. Oh, and does it have a blueprint? It sure does! That's probably all you need to know. What else do you need to know? Well, we've already addressed that... it looks AWESOME! Still, spend your money wisely, folks...or not. Yeah, don't.
READ MORE:
Check out MyEarlyGame for a free and customizable EarlyGame experience. Get engaged through our Twitter and Facebook, and remember to check out our YouTube channel!