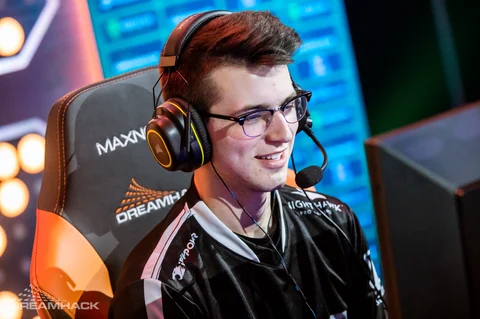 Garrett "GarrettG" Gordon is EarlyGame's Rocket League Player of the Month for July, 2021. You're wondering why? Well, he's the most successful player in 2021, one of the most popular Rocket League YouTubers, and he won the RLCS X for NRG. Today, we're taking a closer look at GarrettG, and let you know why he's EarlyGame's Rocket League Player of the Month for July 2021.

Every month, we take a look at a player who has shown extraordinary performances over the past few weeks. After his outstanding performance in 2021 and RLCS X, we present you with EarlyGame's Player of the month for July, 2021: Garrett "GarrettG" Gordon.
Our previous EarlyGame Rocket League Players of the Month...
Who is GarrettG?
GarrettG is an American Rocket League player who has become one of the most successful pros in the Rocket League Esports scene. He's with Team NRG, and he's unbelievably talented: GarrettG won one tournament after another in 2021, with winnings of over $100,000 USD. His total Rocket League earnings are currently at over $400,000 USD. He also has 379,000 subscribers on YouTube, making him not only one of the best professionals in Rocket League Esports, but also one of the most popular content creators.
GarrettG has had an absolutely fantastic year in 2021. With Team NRG, he won all majors and the RLCS X Championship in North America.

Things haven't always gone so well for GarrettG, however. The first few years of his professional career were plagued with narrow defeats and frustrating tournaments. Though he has been to every major tournament in Rocket League Esports history, he and NRG have never bagged a trophy... until now. After one missed title after another, Garrett was on the verge of giving up for good.
Rocket League Player of the Month, July 2021: GarrettG
He stayed tuned and fit, however, and was rewarded for it. In 2019, Team NRG won the RLCS Championship for the first time and made GarrettG the superstar he is today. If you want to see the full, great story of GarrettG, check out the video below. Believe me – it's worth it.
That was our Rocket League Player of the Month for July, and we will continue to accompany his career. Join the discussion and let us know on Facebook and Twitter who you want to see named Player of the Month next month!
Read More:
Check out MyEarlyGame for a free and customizable experience. Get engaged on Twitter and Facebook.