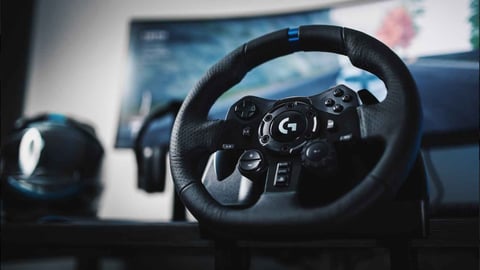 Virtual GPs and virtual motorsport events have created an incredible boom in sim racing in 2020. You want to put yourself behind the wheel, but have no idea what you need? We will tell you in the Sim Racing Hardware Guide.
Sim racing is the most realistic representation of motorsports in video games - at least that's the short version. What exactly is behind the esports category, we already told you in our tutorial. But where do you start if you want to enter sim racing yourself? What do you need? We will tell you in our Sim Racing Hardware Guide.

1. Where Do You Want to Play?
The first and maybe most important point of all. Before you get into sim racing, you should know where you want to go on the track. The most famous sim racing games are waiting for you on the PC.
Sim racing is available in many colors and shapes. GT bolides on real racetracks, in formula sports cars, on motorcycles, and even off-road in rallies. iRacing, rFactor 2 or RaceRoom are only available on the PC - the choice of possible games is gigantic.
But sim racing games like F1 2020, Project Cars 2, DiRT Rally 2.0 are also available on consoles. Forza Motorsport 7 and Gran Turismo Sport even exclusively on Xbox and PlayStation respectively. On the other hand, the PC has a clear technical advantage. At least if you have a powerful computer. The PC has 144 or more FPS (144 frames per second), while consoles usually only have 30-60. This is an incredible advantage, especially in racing games.
Believe us if you've ever experienced Assetto Corsa Competizione in 144 FPS, you won't be happy with the console version (30 FPS). So: Where do you want to race? On PC or on one of the two consoles?

2. What Sim Racing Game Are You Gonna Play?
Once you have decided on a platform, the next question arises: Which sim racing game will it be? Nearly all of the titles mentioned above have big tournaments. Many of them are now relatively cheap or even completely free to play.
Project Cars 2 with the Logitech McLaren G Challenge 2020 doesn't cost ten euros more, Assetto Corsa with the Ferrari Hublot Esports Series is similarly inexpensive. RaceRoom can even be downloaded (with an extensive test version) without any costs. It's worth downloading various sim racing titles to find the game you enjoy the most. Some love F1 2020, others prefer Gran Turismo Sport and still others feel most comfortable on the mud and gravel of a WRC 8.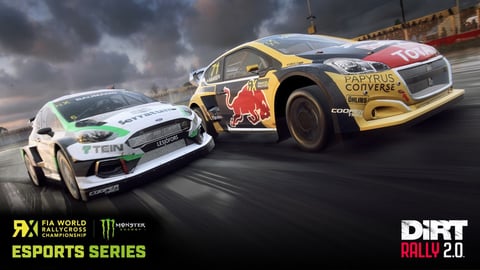 3. What Sim Racing Hardware do I Need?
Okay. You know your platform and your game(s), but what hardware do you need now anyway? Is sim racing possible with a keyboard or a gamepad? Does it have to be an expensive steering wheel? What about a racing seat?
High-quality equipment from the esports pros costs several thousand euros. Here a steering wheel including hydraulic pedals for around €1,500, there a 4K monitor for €600 - oh and don't forget the racing shell including gloves. Don't worry though the entry hurdle into sim racing is by far not as high as it seems. Theoretically, a keyboard or controller is enough for the first few steps to get used to the game feeling at all.
Well, maybe you shouldn't start with a keyboard. There is a lack of feeling for the race cars and the controls are far from optimal. With the stiff keys, you can't control the throttle and brake. There is only full throttle and full braking - races are almost impossible with this.
The best racing games of the decade: our Top 10
View gallery
With a controller, however, things look much better. The analog sticks of the Xbox or PlayStation gamepad allow even minimal steering maneuvers, the triggers allow even the slightest of gas and brake. The driving experience is still miles away from that of a steering wheel - nevertheless a controller is perfectly suited for the first steps in sim racing. Fortunately, the controllers of the current consoles can be used on a PC without any problems.
4. Steering Wheel Obligation in Sim Racing
In the end, however, there is no way around a steering wheel and pedals. The difference between playing with a controller is huge. Thanks to force feedback, the races become tangible. If you drive over a curb or get off the track, you'll feel it in your hands when driving with a steering wheel. On the one hand through vibrations, on the other hand through the steering resistance.
At the same time, you can also drive "round" with only one steering wheel. While with a controller you have to readjust the steering angle with the analog stick again and again within and when exiting a curve, this is completely unnecessary with a steering wheel. Not only does this make you faster or more comfortable but it also has a positive effect on tire wear and fuel consumption of your virtual racing car.
In summary, a steering wheel and a good monitor (with high refresh rate) are mandatory if you want to take sim racing seriously. The steering wheel is the tool of the motorsport pro and CS:GO athletes don't play with a 10 Euro mouse from the discount store, do they? Other equipment like a racing seat, non-slip gloves or a high-quality gaming headset are nice-to-have, but not a basic requirement to become good at sim racing.
For the next part of our Sim Racing Guide series, we look at some of the best wheels for every budget and tell you where the differences are.
Until then, you can find all news and articles about racing on EarlyGame. We'll show you the career mode in DiRT 5 and what to expect in Project Cars 3.