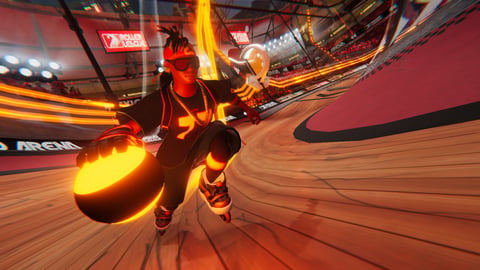 Ubisoft's competitive free-to-play sports game Roller Champions will enter closed beta on February 17. We were able to play a few rounds in the exclusive Early Access and tell you why you should definitely play the game.
At E3 2019, Ubisoft announced the free-to-play sports game Roller Champions, a potential multiplayer hit that could rival Rocket League or Destruction AllStars. Shortly before the start of the closed beta, we were able to play the competitive game extensively and reveal what makes the title so special in our Roller Champions preview. The game, which is being developed by Ubisoft Montreal is scheduled for a release date sometime in 2021.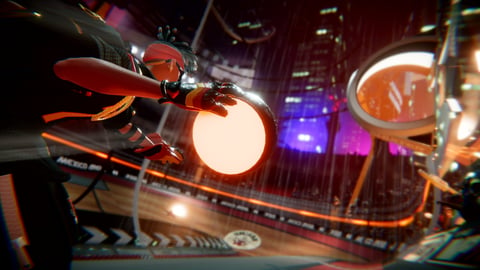 1. It's Quick To Learn
Roller Champions is designed for fast, simple multiplayer fun. The game principle, controls, and gameplay are quickly internalized and thus allow you to have a lot of fun even with only a short amount of time. Two teams with three players each, seven minutes time, one ball: The team that first sinks the round ball five times into the goal wins the match. That's it, that's all you need to know - in theory, anyway.
In order for the goal to open in the first place, you have to complete a lap inside the oval arena with your skater and pass through four checkpoints. If you add a second round, the gate counts three times. If you complete the third round, you'll score five points - and win the round. Your opponents will want to prevent this and will be given a few options to do so.
2. It Has Tactical Finesse
As befits a team sports game, you pass the ball to your teammates at the touch of a button, execute evasive maneuvers to avoid tackles, or secure a short speed boost while navigating the steep walls.
The defenders are also given various special maneuvers and come at you with body checks or fish the ball out of the goal with an uppercut jump at the last second. This dynamic alternation of offensive and defensive play is already a lot of fun in the Roller Champions Beta.
Since you have to be careful at all times when you have the ball: If you lose the glowing leather, all progress of the current round(s) is lost for your team. While you have to drive counterclockwise around the oval to get the checkpoints scored, the defenders can change direction at any time and attack you head-on.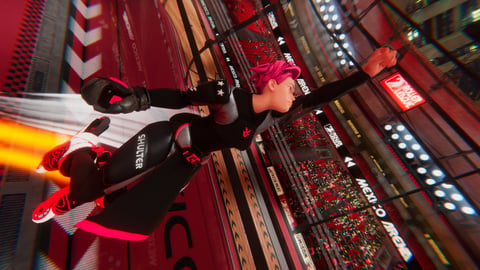 3. It's Competitive
A very precise control system and simple technology, which is fully geared towards good performance, ensure that Roller Champions is already well-positioned as a pure multiplayer title - you won't find a single-player campaign in the game.
To warm-up, you can fill up the teams with AI-controlled bots if you wish, but the title unfolds its full potential when there are six human roller skaters on the servers. If you don't feel like playing roller derbies, you can simply visit the skate park. In Roller Champions' Social Hub, you can hang out with friends, practice your moves, or complete challenges that reward you with additional in-game credits.
All modes have one thing in common: they are already captivating to the screen. You'll still be looking in vain for varied game modes in the game, but the matches already offer a lot of excitement with their tactical depth. Only a bit more variance in the arenas would have been desirable since they only differ in their setting. But well, that can still be done.
4. Plenty of Unlockable Content
Keyword in-game credits: You can use them in Roller Champions to unlock a wide variety of (and sometimes crazy) customization items. A shark helmet here, brightly colored roller skates there, or some bat wings?
Those who like to pimp their cartoon character with new items will get their money's worth in Roller Champions. In addition, there will be a Season Pass model for the release, which offers even more unique objects in the free version or the paid Premium option. Fortunately, they don't affect the balance of the game in any way, but are purely visual.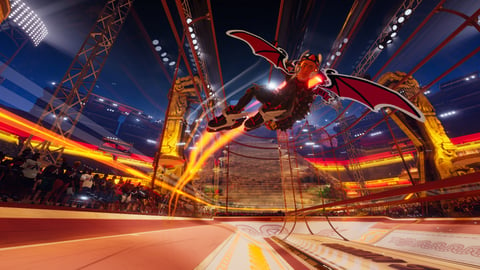 5. It Has Esports Potential
Roller Champions already played excellent in our beta preview and has the potential to become THE multiplayer surprise hit of the year. The matches are fast and characterized by tactical finesse. The controls are precise and allow even newcomers to perform wacky special maneuvers without any problems. The connection quality was also convincing in our test, although the number of players was of course still manageable.
The developers even thought of a spectator mode: in addition to the six players, there is room for another spectator on the servers. A good step towards esports suitability. Roller Champions could develop into a new esports title upon release. After all, the game has everything that distinguishes a competitive sports title and focuses on dynamic gameplay, in which even hopeless games can be turned around within a very short time with the right team.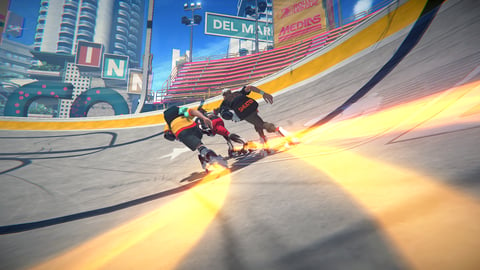 If you want to convince yourself of Roller Champions, you should quickly register for the closed beta. Registrations are still possible via the game's homepage. The beta will run from February 17 to March 1 on PC, PlayStation 4, and Xbox One. The final game is scheduled for release in the 1st quarter of 2021.
For more gaming content, stay tuned to EarlyGame. Join our brand new Discord server to chat with us about all things gaming. If you enjoyed that, join MyEarlyGame to customize everything to your interests.
Original article by EarlyGame's Philipp Briel.