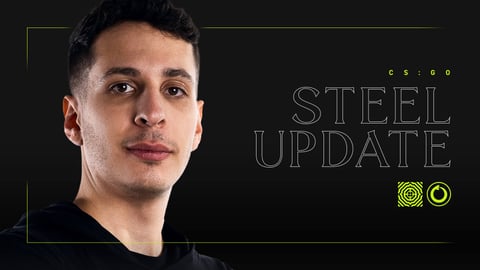 Chaos Esports Club's CS:GO in-game leader Joshua "steel" Nissan has played his final match with the squad. The 30-year-old veteran is stepping down from the roster at his own will and is going to remain within the Chaos ranks as a Valorant content creator.
September 2 Update

All signs pointed towards Edgar "MarkE" Maldonado as steel's replacement on the Chaos CS:GO roster. As promised, the organization came out with an official announcement today, revealing that it would be MarkE indeed who will be stepping into the lineup.

Expect the expected.

We're bringing in someone we believe will bring the right mixture of raw mechanical skill and experience.

WELCOME @MarkeCSGO!

https://t.co/XdbPuIqOIM pic.twitter.com/2IJRRykVSd

— Chaos EC (@ChaosEC) September 1, 2020
The Mexican is quite experienced and for better or worse is used to entering new lineups, so at the very least, Chaos can count on him to get aclimated fast. How it will all play out in the long run is a different matter altogether.

Steel Too Successful for His Own Good
Steel's decision to leave CS:GO behind and move towards Valorant is not made out of quite the same cloth as some other North American players. In the Canadian IGL's case, his own success with Chaos plays a key factor. See, steel is banned from participation in any Valve-sponsored events as a result of his involvement with the infamous iBUYPOWER match-fixing scandal from 2014.
What this means is that in the event that Chaos qualify for a CS:GO Major, their captain would not be able to play with the team, which would defeat the purpose of qualifying in the first place. With Chaos steadying themselves in and around the world's top 20 teams, the possibility of qualifying for a Major becomes more and more likely. With that in mind, players and organizations have reached the conclusion that it would be best if steel moves away from the CS:GO roster.
Even at the best of times change is constant.

Coming off of our recent success, @JoshNissan will be transitioning to streaming full-time as a content creator focused on Valorant.

https://t.co/conBgUWL4d pic.twitter.com/FqSzIQ6JM3

— Chaos EC (@ChaosEC) August 31, 2020
To show appreciation for their captain, the Chaos org is keeping steel on board. The now-retired CS:GO pro will be involved with content creation focused on Valorant. As for the Chaos CS:GO roster, Anthony "⁠vanity⁠" Malaspina will be taking over as in-game leader. More news regarding the new fifth member is expected tomorrow.
We wish both Chaos and steel success in the future. That social media fire deserves a successful organization behind it.
August 31, 2020
Stay with EarlyGame for more quality CS:GO content. You can also check our YouTube channel for some visuals if reading's not your main thing.