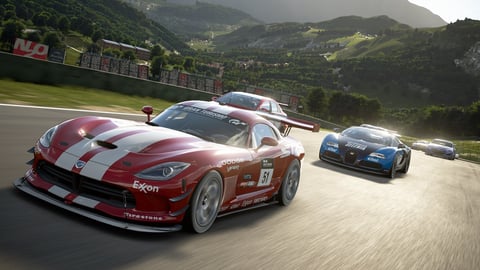 The best racing games ever. From simulation to arcade frenzy – we present the highest-rated racers on Metacritic.
Whether it's an ultra-realistic racing simulation in the style of Assetto Corsa, arcade racers like Pacer, or off-road racing like DIRT 5 – the genre of racing games is perhaps more varied than any other. We present you the 10 best racing games of all times – based on the average score on Metacritic.
10th Place: Wipeout XL/2097
Wipeout is considered the king of the future racers and the XL offshoot (or 2097 in Europe) from 1996. Cool gliders, fat beats, incredible speeds – what more do you want? We can recommend the Wipeout Omega Collection for PlayStation 4.
9th Place: Test Drive Le Mans
This racing simulation was released in 2000 for Sega Dreamcast and revolved around the legendary 24-hour race. The title was one of the best racers for the Dreamcast.
8th Place: Mario Kart Super Circuit
One of the lesser-known games on the Game Boy Advance. The third installment of the series actually has the highest ratings within the timeless Mario Kart series.
7th Place: Gran Turismo 2
With "My favorite Game", GT 2 can boast perhaps the most iconic intro song of all racing games. But also playfully, GT's second installment is above most other racers on the original PlayStation and had a fleet of over 650 cars.
Suzuki Escudo Pikes Peak, anyone?
6th place: Real Racing 2
If you want to play racing games on your iPhone, there is no way around the Real Racing series. And yes: such a racing simulation also works well on your smartphone.
5th Place: Burnout 3 Takedown
Oh, Burnout. No one makes games like you anymore. Burnout 3 was terrific. Hot races, brutal takedowns and the legendary crash mode. The thing is a cult classic!
4th Place: Jet Car Stunts
Our second mobile racing game! But this time, it is in arcade format. It's all about daredevil stunts on slopes, loops, jumps and much more. It is still a hit even after 11 years – all thanks to its precise control.
3rd Place: Need for Speed: Shift
Need for Speed is one of the most famous racing game series ever. But only one single makes it into the Top 10, and only for mobile devices. These series are known for their arcade gameplay – Shift, the first game from Slightly Mad Studios, who are already known for Project Cars.
2nd Place: Gran Turismo 3 A-Spec
GT3 marked a quantum leap in the racing game genre in 2001. The generation change to the PlayStation 2, which provided unprecedented graphics due to its hardware power at the time, lent a lot to the game's success. Also, it has a killer intro song!
1st Place: Gran Turismo:
With a Metascore of 96, the first Gran Turismo towers above all other racing games, and that's hardly surprising. After all, the racer revolutionized the genre back in 1998.
No racing game had ever been more realistic and beautiful, which is why Gran Turismo has earned its name as a "real driving simulator." Gran Turismo is still considered the benchmark for all other racing games, at least in the console sector.
Read more about racing and esports on EarlyGame. We have all information about the E-race Championship for you and provide you with helpful tips for WRC 9.
The best racing games of the decade: our Top 10

View gallery