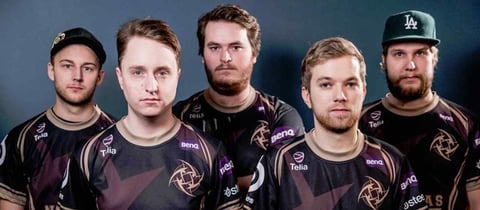 Winning is great – winning more than once is even better. Much like killstreaks in games, getting a winning streak can be a pretty empowering feeling. Here are some of the most impressive win streaks in esports, and the legends that achieved them. What's the longest streak of wins you've achieved?

CS:GO – Ninjas in Pyjamas
Ninjas in Pyjamas are a known constant in the CS:GO world – one of the top teams in the world. Nobody really bats an eye when they show up at a tournament and do well – but sometimes, they really exceed expectations.
This was the case in August 2012, when the team participated in the Swedish SteelSeries GO event – they easily beat their way to the finals and went on to the first DreamHack event in Valencia – and they once again bulldozed their way straight to the finale and to another win. They didn't stop there, though – at the Parisian ESWC, they repeated their success, once again making it straight to the winner's spot. They've already got one of the most impressive win streaks in esports going, but their reign wasn't over yet.
They kept going – DreamHack Winter, AMD Sapphire Invitational, THOR Open, North Con, and so on… and by New Year's eve of 2012, the team had won 85 straight LAN maps. In a Ukrainian event, they finally won two more before losing to another well-known team: Virtus.Pro. On Mirage, VP managed to beat NiP 16-14, making history by ending their seemingly never-ending streak.
Super Smash Bros. 4 – Gonzalo "ZeRo" Barrios
This player didn't just achieve an incredible win streak in esports, but also a recognized Guinness World Record. Specifically, a record in 2017 when ZeRo was officially added to the book for holding the longest win streak for Super Smash Bros. on the Wii U.
Between November 2014 and October 2015, ZeRo managed to win a total of 53 tournaments in a row. Only a handful of players ever managed to defeat him – the one who ended this insane streak was Nairoby "Nairo" Quezada.
Overwatch – Vancouver Titans
Ranked first in the world, the Vancouver Titans are a force to be reckoned with – and in 2019, they were definitely true to their name. They set the record for the most match wins in a row – with a total streak of 19.
In addition to the very impressive win streak the team achieved, they also managed to end the first stage with a perfect streak. Only partway through Stage 2 did they experience their first loss of the season – against another top team by the name of San Francisco Shock.
The Titans met Shock again in the Grand Finals where they unfortunately lost again, after several more wins throughout Stages 3 and 4.

Dota 2 – Newbee
The longest-running win streak in Dota 2 history consisted of an impressive 29 wins in a row – truly a win streak to be proud of. During the 2016-2017 season, Newbee took that record from Natus Vincere who previously held it at 24 consecutive wins – already an impressive number.
Their streak lasted for "only" a little under a month – between April 22 and May 12, Newbee did not lose a single game to anyone. They finally had to concede a victory to Invictus Gaming at an Epicenter event, putting an end to their (short) long reign.
But what does the future hold? Shall we see another great team like Astralis make another amazing win streak? Only the future will tell.
For now, we at EarlyGame will keep an eye for other great teams and players to keep you in the know for all the biggest winners.
Stay tuned for more news from the world of CS:GO, Dota 2, Overwatch and the world of gaming.