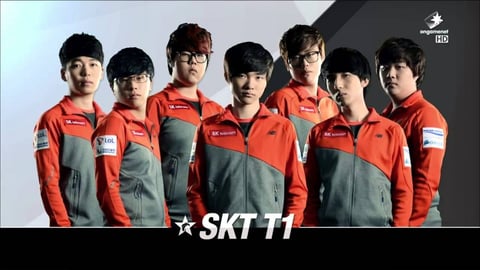 T1 is a Korean esports organization primarily known for its success in League of Legends. The T1 LoL team was formed out of SK Telecom T1 K and SK Telecom T1 S. They are the first and only team to win World Championships three times, out of which, two were in a row. But how did it all start? Stay tuned to find out.
Esports in Korea
To fully understand the story of T1, you need to know some basics about esports in Korea. Esports has developed in Korea much faster than in other countries. Some Esports analysts even say that the professional StarCraft scene in Korea was the beginning of esports as we know it today. The western hemisphere didn't catch up with the idea of esports so easily and never considered it a real sport. However, today, we can watch many live Esports events on television and its impact is slowly spreading. But what if I tell you that South Korea had that more than 15 years ago.
While Europe and America tend to create branded Esports organizations like G2 or Liquid, Korean companies understood the marketing power of esports and invested in it from the early beginnings.
Big companies saw a marketing opportunity and started to create their own teams. T1 was one of those teams. It was formerly known as SK Telecom T1 as it was named after one of the biggest telecom companies in South Korea, SK Telecom. The company still own 54% of the T1 organization and its LoL team. The interesting fact is that as of this year, the best LoL T1 player, Lee "Faker" Sang-hyeok, has become a part-owner of T1 as well.
"I am excited to continue playing for T1 and am thankful for all the fans around the world who have supported me all these years. I am honoured to become a part owner of T1 and look forward to working with the leadership team beyond my playing career. I love this team and am proud to help mould the future of this organization. – Faker

The forming of T1
After the release of the League of Legends Korea sever, SK Telecom decided to create two different teams for the game – SKT Telecom T1 #1 and #2. In late 2012, they acquired a roster for the first team, the same roster that would go on to become SK Telecom T1 S. The first roster was initially composed of former Eat Sleep Game players:
Cho "H0R0" Jae-hwan
Bok "Reapered" Han-gyu
Kim "Raven" Ae-jun
An "MighTiLy" Jeong-uk
Han "StarLast" Jin-hui
Only a couple of months later, in February 2013, SKT created their second team, SK Telecom T1 #2 (T1 K) which they built around Faker. Team #2 was composed of young players: Bae "Bengi" Seong-woong, Jung "Impact" Eon-yeong, Chae "Piglet" Gwang-jin, Lee "PoohManDu" Jeong-hyeon, and Faker himself, who was not so famous at the time.
Looking back at this roster, it is impressive even by today's standards. A team that was created as a "sister" second-class reserve team went to be something completely opposite. Only 7 months after establishment, Team #2 had already won two major trophies, OnGameNet's Champions trophy and the Summoner's Cup. And if any of the names on that list sound familiar, it's because some of these pros went on to become successful team coaches later on.

The Telecom wars
The rivalry between KT and SKT, two of South Korea's largest telecom companies, predates League of Legends and is one of the oldest, if not the oldest rivalry in esports. In Korea, no teams have battled for longer than SK Telecom T1 and KT Rolster.
Just like SKT, KT also created 2 League of Legends teams, Teams A and B, in late 2012. It didn't take them long to take dominance over the Korean scene. By Summer 2013, both teams were already established and feared. In August 2013, the two organizations finally met in the finals for the first time in this game. SKT had better individual players and raw firepower while KT was seen as a team that had stronger team chemistry and better team play.
T1 dominated through the Hot6iX Summer Championship with a perfect record in the regional play-off group stage. They dropped only 1 game until the very finals. However, the grand finals didn't go as smoothly as they expected. If it wasn't for Faker, they would have probably lost that game. The whole world saw Faker that day and what he was capable of. That was the game in which Faker's legendary destruction of Yoo "Ryu" Sang-wook happened.
It was a hard match but SKT T1 won after 5 games and qualified for the World Championship as Korea's top team. Unfortunately for KT, second place wasn't enough to secure a place at Worlds at that time.

League of Legends World Championship 2013
Many skeptics didn't believe that SK T1 #2 even had a chance to win at Worlds 2013. Boy, were they wrong. The team ended up going 7-1 in the group stage after dropping only 1 game against OMG. They continued to dominate during the bracket stage and won both quarterfinals and semi-finals without dropping a game against Germania Bears and NaJin Black Sword respectfully.
The Grand Finals were something special – T1 had to face Chinese titan Royal Club, one of the most impressive teams at the tournament. They were the favorites to win and it seemed like just another easy game for the Chinese team. However, T1 had something else in mind. T1 didn't just win the game that day, but they obliterated them with 3-0 the final result and won the tournament.
That was the first Worlds trophy ever lifted by any Korean team and the very beginning of Korean dynasty on League of Legends professional scene. Faker also became the best player of the year after playing on a competitive level for only 1 season. At the end of the season, to remove the hierarchy between two teams, SK Telecom T1 # 2 was renamed to SK Telecom T1 and SK Telecom T1 #1 was renamed to SK Telecom T1 S.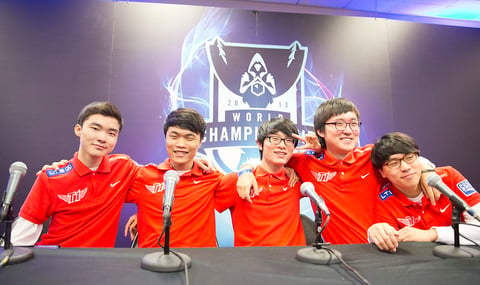 The fall of T1
The year 2014 was a nightmare for SKT, especially the T1 K roster. PoohManDu had to leave the team due to health problems and Casper joined the team as a replacement. The new team didn't get along well and the results were more than disappointing. They were placed in the Top 8 in both the Spring and Summer Split only to lose in the regional finals and fail to qualify for the World Championship that they had won the previous year. SK Telecom T1 S finished 4th in the Summer Split but also failed to qualify for the Worlds.
But... the story of T1 isn't quite done. Don't forget to come back on EarlyGame for the second part of T1's tale and find out how did they came back from 2014 fall and won two consecutive World Championship titles.
And if you like learning about the greatest teams in esports, check out our other pieces in our series:
READ MORE:
And don't forget to come back for more League of Legends, esports and gaming. Also, ring that bell on YouTube for some fun videos!