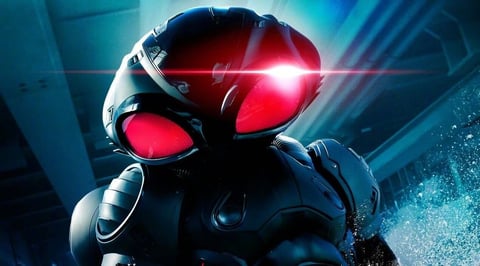 Aquaman's sworn enemy, Black Manta, has been leaked and he will be coming to the item shop soon.
We've already had a number of different Fortnite skins released as part of a collaboration with DC and Marvel. Only last season we got the complete X-Force besides Deadpool. With Chapter 2, Season 3 Aquaman was added as a new Battle Pass skin to match the water theme and soon he will meet one of his biggest enemies.
Black Manta Fortnite Skin
According to one of the most famous Fortnite leakers Hypex, there will be a new DC Skin in the Fortnite item shop. Black Manta, the supervillain of the DC Universe, gets to join Aquaman and the recently released Captain America.
Big Shop Leak: Black Manta and the Black Manta Blades (Dualies) will be in the Item Shop on the 16th at 14:00 GMT! Aquaman (Secret BP Character) will also be releasing at that time.

— HYPEX (@HYPEX) July 3, 2020
Black Manta is described as an unscrupulous and murderous underwater mercenary, wearing a high-tech combat suit. He is Aquaman's most enduring enemy, so it makes sense that the Fortnite skin should be added during this season. But not only that - who is more suitable on a flooded map than a Manta?
The Black Manta skin will probably be added to the files in the next Fortnite update, which we can be will be v13.30. The release date is set for Thursday, July 16. As always, it's possible that the leaked content won't come into play, but as so often before, there is a good chance that it will find its way into the item shop at some point.
Black Manta, sowie Aquaman sollen am 16. Juli ins Spiel kommen!
via @HYPEX #Fortnite pic.twitter.com/W1ZZNMxEdV

— Finn - Fortnite Leaks & News (@FinnxFN) July 3, 2020
The skin will be available with the dual pickaxe Black Manta blades. At the moment it is not sure how the pickaxe will look like, but with the next update, more files will be found by the data miner.
Stay tuned for more Fortnite news and make sure to check out EarlyGame as well as our Youtube channel for everything gaming and esports.