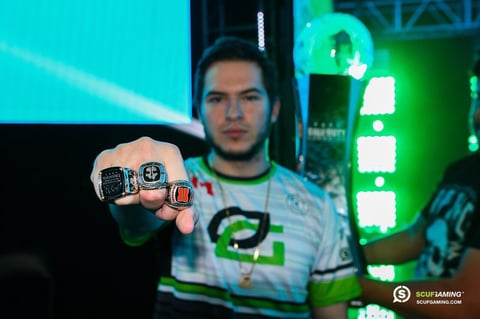 Seattle Surge announced on Twitter that Damon "Karma" Barlow has decided to end his professional gaming career in Call of Duty. In addition, the Minnesota Home Series will be postponed by one week. Two sad news stories at once.
One of the best Call of Duty players of all time, if not the best, is ending his gaming career. Damon "Karma" Barlow, known as the CoD GOAT (Greatest Of All Time) by many, was last seen playing for Seattle Surge alongside Apathy, Enable, Octane, Slacked, Proto and Pandur. Tonight, Seattle Surge announced Karma's decision on their Twitter channel:
Damon "Karma" Barlow has chosen to retire from competitive play. Congratulations to without question the greatest of all time. pic.twitter.com/iAekHPmwsd

— Seattle Surge (@SeattleSurge) June 4, 2020
Karma thanks his family, his fans and his team and explains his reasons in an additional personal tweet:
I will not be back. I think I can play new CODs for about a month before I get over playing the game.

— Damon B (@DKarma) June 4, 2020
He hadn't liked the current Call of Duty very much from the beginning and hadn't had any desire to play the game for a long time. He rates his performances in the current CoD as pretty bad and thinks that Seattle Surge would be better without him. He also reiterates that he will not return as a player, as he is convinced that every new Call of Duty game will bore him after a few months. Harsh words...
Who is Karma?
Karma, now 26 years old, has been active in the competitive Call of Duty scene for almost ten years and has played for a wide variety of teams. He is the second-best earning esports console player and, thanks to his three world championship titles, is considered the best player of all time among Call of Duty fans. Before joining Seattle Surge, he was best known as a member of Impact, with whom he won the 2013 Call of Duty: Black Ops 2 World Championship. He also played for compLexity and won the Call of Duty: Ghosts World Championship 2014 with them, before winning the Call of Duty: Infinite Warfare World Championship in 2017 with OpTic Gaming three years later.
I'll be back pic.twitter.com/bXS0n03luu

— Damon B (@DKarma) June 4, 2020
Despite the announcement that he will no longer return as a player, Karma teased on Twitter with a Bill Belichick gif that he might have plans to move into coaching in the future. At least that seems like an obvious assumption to us when a gif of the greatest modern NFL coach is being shared.
Minnesota Home Series postponed
Karma's departure from Seattle Surge is not the only event in the Call of Duty League. Originally, the Minnesota Home Series was supposed to take place this weekend. However, due to the current situation in the USA, it was postponed by one week.
June 3, 2020
On the basis of current information, the Call of Duty League will therefore continue on June 12. The league announced on Twitter that it wants to support the fight for social justice and will announce as soon as possible what measures the CDL will take to achieve this.
Call of Duty: Modern Warfare Season 4 was also postponed, though in this case, we have no set date on when we are getting the new content.