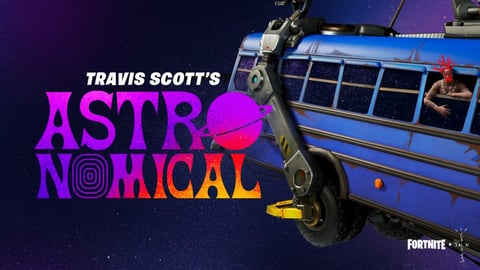 Fortnite fans rejoiced over the weekend as American rapper Travis Scott took his music to Fortnite in a spectacular fashion – astronomical even, with incredible visuals to create a one-of-a-kind experience for fans around the world.
An Astronomical event
Fortnite fans, you just can't get enough! Over the weekend, if you partook in the event, you'll know just how incredible it was for gamers and music lovers alike and the payoff for Epic Games and Travis Scott was huge. We now know from
Epic Games
that over
12.3 million concurrent players participated
live in
Travis Scott's Astronomical event
which was a record for a game that tends to have a hard time pleasing fans due to the season delay among other issues:
Over 12.3 million concurrent players participated live in Travis Scott's Astronomical, an all-time record!

Catch an encore performance before the tour ends: https://t.co/D7cfd2Vxcc

— Fortnite (@FortniteGame) April 24, 2020
Astronomical numbers
Fortnite being as popular as it is, these numbers are no joke. The previous event to take the game by storm was Fortnite's two-day outage before the season announcement, which was viewed by 7 million viewers and doesn't stack up to the recent and more visually appealing event's 12.3 million players, let alone the views this has generated over the weekend which are expected to be enormous:
Fortnite's 'The End' event will go down as the most watched gaming event in history for western audiences

4.5M+ on YouTube
1.5M+ on Twitch
1M+ on Twitter
and 37 people on Mixer

just incredible

— Rod Breslau (@Slasher) October 13, 2019
A marriage of convenience
The reasoning behind how popular this concert was can be seen in the recent social distancing restrictions and laws in place that are keeping more people at home and online rather than being out and about. This would naturally boost common viewership among concurrent players but also fans of Travis Scott that do not play Fortnite would now have the option to sign up and watch the 10-minute spectacle.
With the numbers provided to us by Epic Games, it's clear that Fortnite isn't struggling as much as the community likes to think. With just under 11 million players logging in to the in-game Marshmellow concert, this record proves Fortnite has a lot more to offer.