Alright, we all expected some Champions-themed cosmetics, but we didn't expect them to be this cool. Here's everything you need to know about the Valorant Champions 2021 Bundle.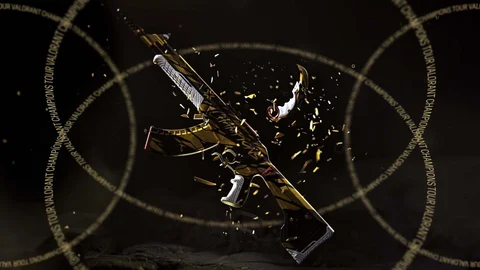 Valorant Champions, the most important tournament for Valorant esports, is happening in just a week, and Riot is gradually building hype for it. Yesterday, we got the official tournament anthem, and today, we got a bundle announcement with two clean upgradeable skins for Vandal and Melee. However, these two skins aren't all we get! Curious about what else Riot has in store for us regarding Champions 2021 cosmetics? Without further ado, let's get into the details.

Learn more about the Valorant Champions tournament:
Champions Skin Bundle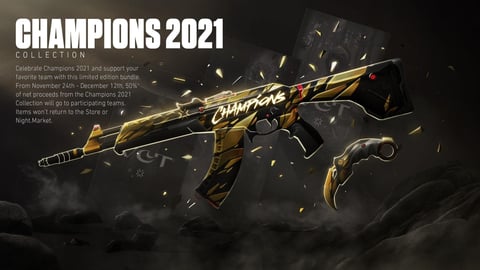 Champions skin bundle will be out on November 24 for 6263 Valorant Points and will contain:
Upgradeable Vandal Skin
Upgradeable Melee Skin (Karambit)
3 Player Cards
"Champion" Title
Okay, this one is the most exclusive skin bundle ever released. First of all, it only contains two skins, but both look so clean and unique and have arguably the best finisher animation in the game. It's similar to the one we got in the Zedd Spectrum skin line, but we honestly feel like it's even more gorgeous. Take a look for yourself:
The new finisher for the CHAMPIONS 2021 Vandal is ON ANOTHER LEVEL HOLY TOLEDO#VALORANT pic.twitter.com/osEJui2chR

— RyanCentral | HITSCAN (@RyanCentral_) November 23, 2021
The Valorant community is nuts about this finisher. Preeti Khanolkar, one of the Valorant producers, said:
Our VFX artist was listening to the VCT Champions anthem on repeat while working on the finisher. He's a huge esports fan and wanted to create a finisher that felt really aspirational.

Secondly, the Valorant Champions bundle will only be available from November 24 to December 12, and then it will be gone forever; it won't even come back during any Night Market. It also contains three awesome player cards. Player cards are often "fillers"; they're cool, but nobody really cares about them — at the end of the day, it's all about the weapon skins. However, take a look at these three: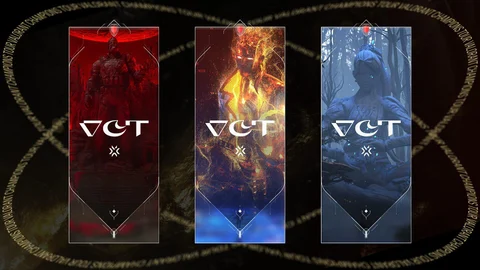 Yeah, you don't want to miss them.

And lastly, 50% of net proceeds from this bundle will go directly into the Champions 2021 prize pool, and it's already a million dollars. Even if you can't afford the entire bundle, you can buy all skins separately; it's 2675 VPs for the Vandal skin and 5350 VPs for a Karambit Melee.

Champions Spray & Gun Buddy
As we mentioned earlier, the Champions bundle isn't the only Champions-themed cosmetic we'll be getting! Riot has also announced that for watching the Champions tournament on the official Valorant channel on Twitch, we will be able to get a spray drop and a unique gun buddy, which look like this: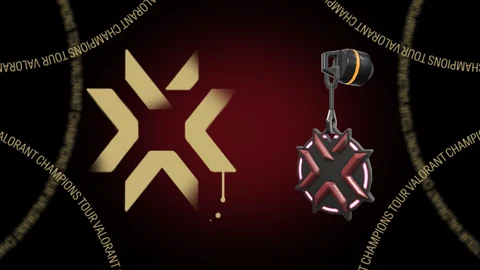 We don't know if everyone who will watch the tournament stream will get these drops, or rather it be random and only a few will be able to show off these cosmetics (we bet on the second option, though).
Art of Greatness Free Player Card
And the last cosmetic we get from Riot to celebrate Champions (for now) is a free player card that you can get when you log into the game right now. The player card is called "Art of Greatness" and looks like this: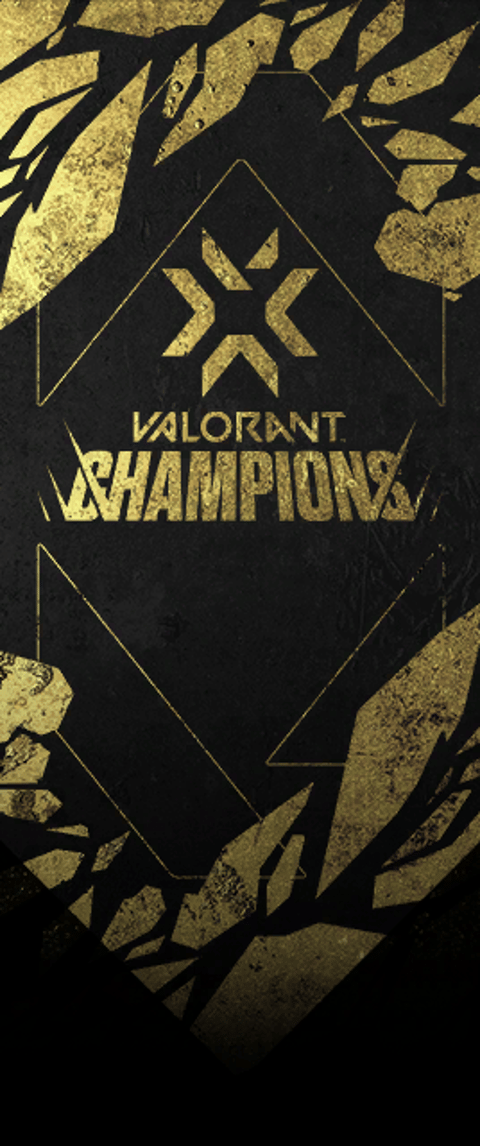 So yes, just launch Valorant now, and it will be yours.