If Night Market is a foreign concept to you: don't worry, as we've compiled all the dates and information you need to know about this incredibly rare pop-up shop.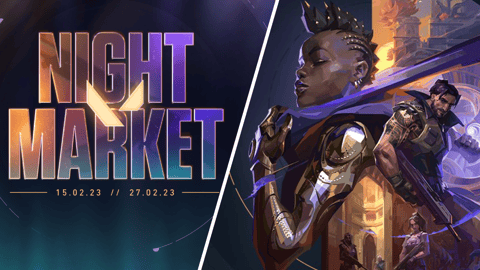 Night Market – love it or hate it, you always check your deals anyway and hope for the best rolls. And if you're new to the game and don't know what all the hype is about, here's everything you need to know about it!

What Is Night Market in Valorant?

Night Market is a rotating time-limited pop up store that gives players discounts on 6 past skins available in Valorant. You may know this concept from League of Legends; there, players have access to a customized shop called "Your Shop" and it offers skin discounts on some of your most played champions.
Note that all the Night Market skins offered are all different for each player.
What Is Featured In Night Market?
Night Market currently features skins from a total of 38 collections.
9 Select Edition Collections
16 Deluxe Edition Collections
25 Premium Edition Collections.
Eligible Night Market Collections:
Select Edition: Convex, Galleria, Infantry, Luxe, Prism II, Rush, Sensation, Smite, Endeavour
Deluxe Edition: Aristocrat, Avalanche, Horizon, Kohaku & Matsuba, Minima, Nunca Olvidados, Prism, Sakura, Sarmad, Silvanus, Snowfall, Wasteland, Winterwunderland, Team Ace, Tigris, Titanmail
Premium Edition: Celestial, Crimsonbeast, Doodle Buds, Ego, Forsaken, Gaia's Vengeance, Gravitational Uranium Neuroblaster, Ion (EP 1 only), Magepunk, Nebula, Neptune, Oni, Origin, Prime, Prime//2.0, Radiant Crisis 001, Reaver, Recon, Sovereign, Spline, Tethered Realms, Undercity, VALORANT Go! Vol. 1, VALORANT Go! Vol. 2, Xenohunter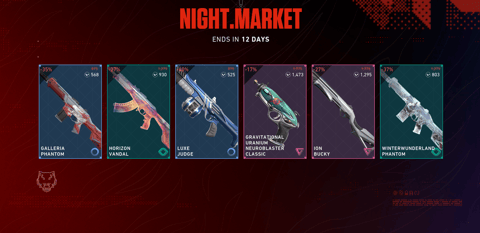 Upcoming Skin Collections:
These collections will be added to the Night Market at the beginning of Episode 6 Act 2:
Ion (EP 5 skins)
Soulstrife
Abyssal
Cryostasis
Can You Re-roll Your Night Market Skins?
Once you reveal the items in your Night Market tab, that's it. There is no way to reset the items offered to you, nor do you have any control over which items get revealed. Pray to the Valorant RNG gods that the one skin you're missing from your collection is one of the six weapons revealed.

When Is The Next Night Market?

The night market takes place approximately every two months on a random date. Recently, Riot announced that the next night market will start on February 16, 2023 at 2 a.m. The event lasts for almost 2 weeks and will end on February 27th.

How To Access Night Market?
To access Night Market, all you have to do is click on the special tab in the right-hand corner of the opening screen, and then reveal all your 6 discounted items by clicking on the cards.

If you don't see the Night Market tab, double-check if your game runs on the latest Patch.
The items you get in your Night Market offer are entirely random, and you can't impact them at all. However, there's no way to get two or more of the same weapons, which is currently the only protection against bad luck.